SWU students teach in Ukraine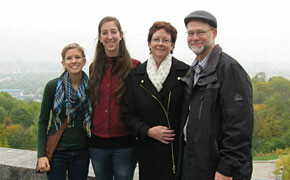 A team from Southern Wesleyan University recently returned from a unique week-long "academic missions" trip to Ukraine. Pictured from left are education students Caroline Hudson and Devri Burdick, Susan Shotsberger and Dr. Paul Shotsberger.
Gallery:
A small team consisting of two Southern Wesleyan University students, a professor and his wife recently returned from a trip to Ukraine where the students furthered their honors research while touching the lives of schoolchildren.
This past March, Dr. Paul Shotsberger, a Southern Wesleyan education professor, visited Ukraine with a team from his church, and one of the activities he engaged in was teaching students and training teachers in a K-12 public school in a suburb of the capital city, Kyiv. This opened a door of opportunity for SWU to continue and expand this work. The SWU team left for Ukraine Oct. 4 and spent a total of seven days in the Kyiv region.
Caroline Hudson, an elementary education major from Pickens, observed and taught in TESOL (teaching English as a second language) at the elementary level at two different schools, while Devri Burdick, a special education major from Charlotte, spent her time observing and teaching at a school for disabled children. According to Shotsberger, Hudson and Burdick were "highly successful" and the teachers at the schools were complimentary of their teaching. The team also ministered in a couple of churches in the Kyiv region. Shotsberger preached in both churches, and he and the students sang for the congregations.
The students also visited the family of one of the disabled children that Burdick taught during the week. Shotsberger plans to return to Ukraine at the end of May to continue this cooperative effort, at which time he hopes to coordinate a children's camp for elementary students. Until then, the honors students will be writing curriculum that can be implemented in the schools in which they were working, with a view toward implementation in May and June 2014.