SWU Summer Jazz Experience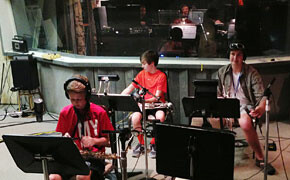 A trip to a nearby studio for a recording session is part of the Summer Jazz Experience, June 17-21 at Southern Wesleyan University. Camp participants will explore their skills during "jam-sessions" with renowned musicians.
Southern Wesleyan University will be hosting its 14th annual SWU Summer Jazz experience June 17 – 21.
Incredible clinicians and a great setting make the camp a friendly, fulfilling and fast-paced three days. An in-studio recording session, live "club" performances, and great concerts by the clinicians allow students to become very involved in all aspects of the jazz combo. Improvisational and theoretical skills will be developed, songwriting skills will be explored, and clinicians will direct daily masters classes and "jam-sessions." Activities such as beach volleyball and basketball will be offered in the free time. All you can eat meals and air conditioned dorms round out a great facility that will provide the ideal setting.
Clinicians featured this year will be Pat Harbison (trumpet), Rick Simerly (trombone), Chris Baker (drums), Doug Norwine, (saxophone), Ashley Summers-Baker (bass), Eric Barnhart (piano) and Bruce Helgeson (guitar).
For details, contact Professor Greg Day at 864-650-8987 or email . On Facebook, go to "SWU Summer Jazz 2014." A printable brochure and a registration link can be found online at www.swu.edu/jazzcamp.
Southern Wesleyan University is a Christ-centered, student-focused learning community devoted to transforming lives by challenging students to be dedicated scholars and servant-leaders who impact the world for Christ. For details about degree programs, go online to swu.edu.