SWU team helps with Sandy relief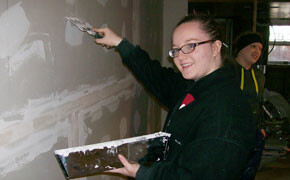 SWU students, along with SWU graduates, staff and a team from Denton Wesleyan Church traveled to the New York area for a week spent assisting in the rebuilding of homes devastated by Superstorm Sandy. Pictured are students Madison Busch, foreground, and Caroline Wood.
The road to recovery for New Yorkers following Superstorm Sandy is a long one, but a group of Southern Wesleyan University students and alumni rolled up their sleeves to move them closer to a normal life.
Southern Wesleyan partnered with three Wesleyan Churches and Poured Out Ministries to assist in the relief effort, spending a week helping New York City area residents impacted by Sandy. The SWU team was led by Dave Tolan, missions mobilizer, and Joy Bryant, director of alumni and constituent relations. Students Madison Busch and Caroline Wood of Liberty; Will Henderson of Brevard, N.C.; and Joshua Tolan of Six Mile traveled to New York City Jan. 6. Joining them were skilled home contractors from Denton Wesleyan Church in Denton, N.C., led by Pastor Charlie Collins, a 1989 religion graduate. Poured Out Ministries provided the tools and supplies needed to make homes inhabitable after extensive flooding from the storm.
Denton Wesleyan previously sent teams to the New York area in the wake of the storm, distributing coats, blankets, food, water, diapers and cleaning supplies to more than 300 families in Brooklyn, N.Y. and helping with cleanup efforts.
"Not knowing how to rebuild houses really stretched me outside of my comfort zone," said Henderson, a senior religion major. "Whether it is rebuilding a basement, striking up a conversation with a stranger on the subway, or giving away bags of food, each activity showed the love of Jesus to the community."
"Working with SWU alumni and the SWU students was very rewarding. The days were long and the work was challenging, but at the end of the week we made new friends and – more important – we made a difference in the families that were misplaced by the storm," Bryant said. "Having strangers cry as we held them in our arms telling them we loved them and were there to help is a memory not soon to be forgotten."
SWU team members worked on three homes: one located in Queens and two on Coney Island. They hung drywall, laid new flooring and did what they could so their owners could return home. Dave Tolan and his son Joshua, along with Henderson prepared more than 100 food bags that were given to many Brooklyn families.
"I love this partnership model," Tolan said. "As SWU students, we do not have the skills to hang drywall or put down new floors, but we can swing a hammer and hold the end of a tape measure. We can learn and work hard."
New Hope Wesleyan Church in Brooklyn, N.Y. hosted the SWU team.
The team's return trip to South Carolina included a stop at Parkway Wesleyan Church, Roanoke, Va., who hosted the team Jan. 12. The church is pastored by Dr. John Ott, who is also a member of the university's board of trustees. At Parkway, the team shared their experiences with youth Sunday School classes at the church, led by SWU graduate Paul Haithcock.
Southern Wesleyan University is a Christ-centered, student-focused learning community devoted to transforming lives by challenging students to be dedicated scholars and servant-leaders who impact the world for Christ.
View more photos in Facebook.