SWU to confer degrees in three ceremonies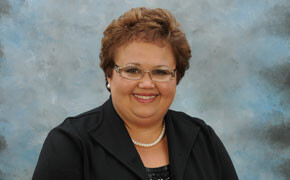 Shirley Duncan is the graduation speaker for commencement exercises at Southern Wesleyan University.
Commencement exercises will draw graduates, their families and friends to Southern Wesleyan University's campus in Central December 14 and 15.
The speaker for the ceremony will be Shirley Duncan, director of church relations at Hephzibah Ministries, Macon, Ga. Duncan was once a child at Hephzibah Children's Home. Today, she travels across the United States and Canada speaking with church congregations and members of The Wesleyan Church about what God continues to do on behalf of children there. Duncan is a 1978 religion graduate of Southern Wesleyan University. Her husband, David, a 1979 religion graduate, serves as chaplain at Hephzibah.
The December 2012 graduation exercises of Southern Wesleyan University will be held in Newton Hobson Chapel and Fine Arts Center on the university's campus.
The university expects to confer 321 degrees, according to Registrar Rock McCaskill.
Students graduating from the university's traditional program will participate in the ceremony on Friday, Dec. 14, at 3 p.m.
There will be two separate graduation ceremonies on Saturday, Dec. 15, for students graduating from the university's Adult Evening programs. The 10 a.m. ceremony on Dec. 15 is for students earning associate degrees, bachelor's degrees and master's degrees from the Central, Greenville, Greenwood and Spartanburg locations. The 3 p.m. ceremony on Dec. 15 is for students earning associate degrees, bachelor's degrees and master's degrees from the Columbia, Charleston and North Augusta locations.
For details, call Southern Wesleyan University's Academic Records Department at (864) 644-5530. Tickets, issued through the university, are required for those attending the ceremonies on Dec. 15. For guests without tickets, overflow seating is available, which will allow guests without tickets to view the ceremony via a closed circuit broadcast. Details are available at http://www.swu.edu/academics/academic-records/
Other end-of-semester events at Southern Wesleyan University include Baccalaureate Chapel Dec. 14 at 10 a.m. in Newton Hobson Chapel and Fine Arts Center. The Baccalaureate speaker is Dr. Bob Bagley, Africa Area director for Global Partners, the mission arm of The Wesleyan Church. Bob and his wife, Brenda, have served extensively in Africa as educators and mentors. He received his MA in missiology at Columbia Biblical Seminary and his Ph.D. in educational studies at Trinity Evangelical Divinity School.
The university's Baccalaureate Chapel includes a "Ceremony of the Servants" and a challenge for graduates of the university to find ways to serve the needs of people throughout the world.
Southern Wesleyan University is a Christ-centered, student-focused learning community devoted to transforming lives by challenging students to be dedicated scholars and servant-leaders who impact the world for Christ.