SWU welcomes the world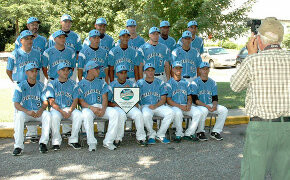 Photographer Lewis Pace takes a photo of the Puerto Rico team for the official Big League World Series program. The team had just arrived on the campus of Southern Wesleyan University in Central.
While The Olympic Games captivate the world's attention in London, Southern Wesleyan is serving as the "village" for a world-class competition on this side of the pond. More than 200 athletes in 11 teams from across the nation, as well as Europe, Latin America and the South Pacific are competing in the 2012 Big League World Series, being played during Summer 2012 at J.B. "Red" Owens Recreation Complex in Easley. Southern Wesleyan has provided food, lodging and practice facilities for the teams since the series came to Easley in 2000. The series will end with the Championship Game, which will be televised on ESPN.
For details and a complete schedule, vsit the Big League World Series website