Tarradiddle Players present "The Commedia Princess and the Pea"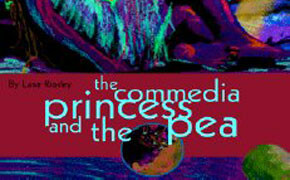 Take one lonely prince, one delicate princess, one devious queen and one tiny pea, and you have one fabulous fairy tale.
The Tarradiddle Players, the touring company of the Children's Theatre of Charlotte, N.C., will have the audience howling in their performance of "The Commedia Princess and the Pea" on Feb. 7 at Southern Wesleyan University in Central, S.C.
The show begins at 7:30 p.m. in Folger Fine Arts Auditorium. Admission is free.
In this comical version of "The Princess and the Pea," four actors bring every character to life: the prince, his mother, the advisor, a bevy of beautiful princesses-to-be, the fairy godmother, the delicate and lovely princess and, of course, the pea.
The show is presented in the style of the old commedia del'arte acting companies: traveling actors who toured Italy in the 1600's. Known for their comic style and vast repertoire of plays, they performed for enthusiastic audiences everywhere they went. Commedia troupes were gifted at improvisation and usually created their own set and property pieces, which traveled with them in a wagon.
In the Tarradiddle Players' version of "The Commedia Princess and the Pea," written by Lane Riosley, the actors sing, dance, sword fight with giant bread sticks and create all sorts of fairy tale magic right before your eyes. While there are plenty of occasions for laughter, there is also the magical moment when the prince falls in love.
The Tarradiddle Players have been touring North Carolina with plays for family and school audiences for more than 30 years.
For more information on this performance or for details about Southern Wesleyan University's Fine Arts Series, call Jane Dill at (864) 644-5294, e-mail .