Teacher of the Year grateful for supportive family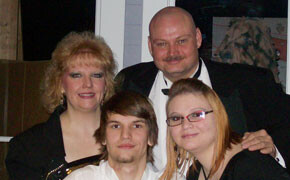 Dana Jackson, left, a 2009 graduate of SWU's master of education degree program, is pictured with husband Henry Jackson, right, and children Mathew and Megan Jackson. Dana's teaching colleagues at Windsor Spring Elementary School named her Teacher of the Year.
Family, teaching colleagues and former SWU classmates are a blessing to Dana Jackson, a North Augusta Education graduate.
Jackson, who was recently named Teacher of the Year at Windsor Spring Elementary School in Augusta, engages her fourth-graders through a variety of board games and online resources, encouraging them along the way with positive reinforcement and helping them to take responsibility for their own learning. Her students are often dismissed at recess and other times, dancing to upbeat tunes from "Kidz Bop" or "Flocabulary.com."
"Being named Teacher of the Year, as voted on by my colleagues, has been an incredibly humbling experience," Jackson said. "It was almost a surreal feeling because of how hard I see others around me working. I couldn't believe that my hard work was noticed and appreciated. I am thankful to God for all of the blessings He has given me."
Jackson, who earned her master of education degree in 2009, attended Southern Wesleyan University's North Augusta education center with one of her teaching colleagues, Letrece McCoy. Jackson and McCoy encouraged each other as they worked through the program.
Jackson's family is very supportive, helping her get her classroom ready with the start of each school year. Her husband, Henry, and son, Mathew, have built or assembled bookshelves, dry erase boards and other items she uses in her classroom. Her daughter, Megan, is a certified volunteer who has a knack for organization, and even taught her students about Junior Achievement. Her parents and siblings look out for bargains on supplies Jackson needs in her class.
"The M.Ed. I received from SWU has helped me fulfill leadership duties at my school in a more informed, and constructive way," Jackson said, adding that she learned valuable tools that help her during meetings at her school where problem-solving skills are often applied. "My training has also helped me develop skills to interact with parents in a more proactive and encouraging way. I have seen a tremendous improvement in my parent/teacher relationships."
Southern Wesleyan University is a Christ-centered, student-focused learning community devoted to transforming lives by challenging students to be dedicated scholars and servant-leaders who impact the world for Christ.
Click here for details about degree programs in education.