'The Gospel of John' takes center stage at Southern Wesleyan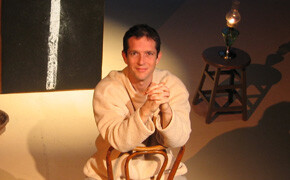 Actor Brad Sherrill performs the book of John, as written in the Bible.
Southern Wesleyan University invites you to experience the life, ministry, death and resurrection of Jesus Christ in an unforgettable, dynamic presentation.
"The Gospel of John" is a dramatic one-man presentation of the Gospel of Christ. With a few very simple props used in a variety of ways, Brad Sherrill transforms the gospel into a captivating drama, presenting the entire story of Christ's ministry on earth and the events leading up to his resurrection.
It took nearly five months for actor Brad Sherrill to memorize all 20,000 words of "The Gospel of John." He had plans to perform it just once at his home church in Atlanta, but has now presented John's gospel more than 600 times since 2001 in professional theaters and churches across the U.S., Canada, the U.K. and Ireland. An estimated 180,000 people worldwide have now experienced a rare opportunity to see and hear an entire gospel presented live in this dramatic way.
Response to "The Gospel of John" has been overwhelmingly positive from clergy, lay members and the press.
"The Gospel of John" will be presented Tuesday, Sept. 21, 7:30 p.m. at Newton Hobson Chapel and Fine Arts Center on Southern Wesleyan's campus in Central. Admission is free. For details, call (864) 644-5408 or go online to www.swu.edu or the performance Web site at www.gospelofjohn.com.