'The Storyteller' comes to life at SWU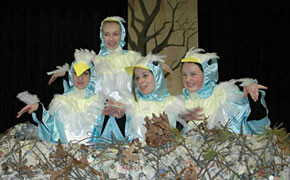 Sarah Whiteside, Elisabeth Lyons, Olivia Mann and Esther Schow rehearse for "The Storyteller" at Southern Wesleyan.
Southern Wesleyan University hosted 45 students for the week to rehearse, make costumes and create sets for their production "The Storyteller" to be presented Feb. 29 and March 1 at Folger Fine Arts Auditorium on the university's campus in Central. The "kid-friendly" play, written by Anderson playwright JoyLea Parrish, follows the life of a boy and girl and the boy's ambitions to become a successful writer. The boy weaves his stories, featuring music and characters, throughout the play. The students, in grades 7-12, are part of the Easley Home Educators.