Theater transformed by SWU graduates' ministry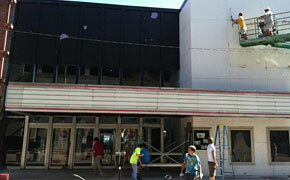 The old Rivoli Theater at Myrtle Beach's Pavilion area is being transformed into a Christian teen club complete with concert venue, café and office space for Ground Zero, an outreach founded by Southern Wesleyan University graduates Scott and Kimberly Payseur.
For decades, the Rivoli Theater served up the best of Hollywood to beachgoers near Myrtle Beach's Pavilion.
Thanks to an evangelical outreach organized by a 1992 Southern Wesleyan University graduate, the old showplace is being transformed into a Christian teen club and concert venue with a 50s retro vibe.
The facility's auditorium is being resurrected with a generous backstage area, as well as a café, coffee bar and offices for Ground Zero, an organization that reaches approximately 11,500 teenagers in the Myrtle Beach area.
According to Scott Payseur, Ground Zero executive director and founder, the coffee bar and café are coming together, with drywall, plumbing and electrical wiring nearing completion. Ground Zero is looking for donors and volunteers who can help finish the facility, which is being leased by the ministry from the city of Myrtle Beach. Payseur is hopeful that the facility will be finished by the end of this summer. When complete, the facility will be able to host more than a thousand for events.
Even more exciting, according to Payseur, is knowing this is where thousands of teenagers will attend events, build relationships and make life-changing decisions "that will drastically change their lives forever."
Ground Zero grew out of a passion Payseur first developed as a teenager attending a Wesleyan youth convention in Knoxville. He started the ministry in 1996 and moved it to Myrtle Beach 10 years later. Ground Zero does its outreach through contemporary worship and other high-energy events, Club GZ, Beach Blast and a concert series that has featured top Christian music performers which have included Third Day, Red, Kutless and Big Daddy Weave. Upcoming concerts this year will include Sidewalk Prophets and former American Idol contender Jason Castro.
Ground Zero also does outreach to students through Campus Clubs, which are student-initiated, student-led groups that meet at local high schools and middle schools. The focus is on students growing spiritually and serving their campus together.
A unique fundraising event is the annual Dragon Boat Festival, a team water sport that's grown internationally. Their fifth annual Ground Zero Dragon Boat Festival is planned for April 27 at the Market Common in Myrtle Beach.
Beach Blast, billed as the Grand Strand's largest Christian festival, is a yearly happening organized by Ground Zero's partnership with Premiere Festivals and the Myrtle Beach Area Chamber of Commerce.
More information about Ground Zero can be found online at www.groundzeromb.com.
Southern Wesleyan University is a Christ-centered, student-focused learning community devoted to transforming lives by challenging students to be dedicated scholars and servant-leaders who impact the world for Christ.