TNT feature shot on SWU campus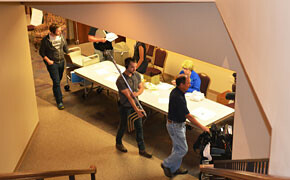 A camera crew prepares for a shoot on the Southern Wesleyan University campus in Central during the Reunion of Upcountry Families, which took place April 24-26. This month, TNT is airing a feature about the event on "The Dramatic Difference."
The Reunion of Upcountry Families, a gathering of genealogy buffs and a "swap meet" for family information held in Pickens County, is getting national attention.
TNT, which is currently airing a short feature devoted to the event, sent producers to the area to interview organizers and participants, and shot video on the Southern Wesleyan University, as well as some rural cemeteries in Pickens County. Kenny Blakeney of the Birchwood Center, who organized the reunion, was approached several months ago by the producer, who found out about the event on the reunion's website. She told Blakeney that they were working with Ancestry.com and TNT and thought the reunion was a unique event. Birchwood is an organization devoted to local history and folklore and was looking for an activity to raise awareness among the public.
Blakeney recalls meeting with other genealogy buffs in the area and coming up with the idea for a reunion five years ago.
"We were looking for an event to sponsor. I came up with a genealogical reunion type of event," said Blakeney. Dot Jackson, a well-known local author and journalist who is also involved at Birchwood, suggested he contact local historian Anne Sheriff because of her expertise in genealogy. Sheriff liked the idea, and the wheels were set in motion for an event. As others weighed in with suggestions, the format of the event – a combination of workshops, cemetery tours and a big reunion at Southern Wesleyan that attracts hundreds of visitors – began to take shape as an annual event.
According to Sheriff, the unique format of the three-day event sets the Reunion of Upcountry Families apart.
"Family Reunions are held throughout the United States. Our Reunion invites families to set up a table with information and history of their ancestors. Descendants from throughout the United States attend, searching and giving information about their ancestors. Our Reunion is different because we have three days visiting cemeteries, genealogical collections, libraries and the final day having a swap-meet where families can share information," said Sheriff. Historical and genealogical groups in the Upcountry are invited to come and help our visitors collect information on their ancestors."
The interviews and footage came together for "The Dramatic Difference," a human interest feature aired on TNT and featuring Blakeney and Sheriff along with several reunion participants. It is being sponsored by Ancestry.com. A schedule of airings is below:
6/13 – 6:44 during Supernatural
6/16 – 6:44 during Castle
6/17 – 8:08 during Rizzoli & Isles
6/18 – 6:44 during Castle
6/19 – 6:44 during Castle
6/20 – 6:44 during Cold Justice
6/25 – TBD
6/26 – TBD
For details about the Reunion of Upcountry Families, contact the Birchwood Center at (864) 898-0840 or email . Also, more information can be found online at www.100yearreunion.com or on the Reunion's Facebook page, www.facebook.com/ReunionOfUpcountryFamilies.