Tuning out the noise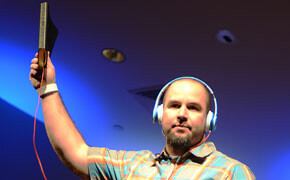 Using a Bible and headphones, Kenneth Wagner speaks about "plugging in" to God's Word and tuning out the surrounding noise of the world. A 2008 SWU alumnus, Wagner is lead student pastor at Calvary Wesleyan church in Harrington, Del. He was speaker for a special Preview Day chapel March 28.
Wagner also spoke to youth attending Fellowship of the Called (FOTC), which took place over the weekend on the Central campus. Wagner is passionate about seeing students gain an authentic faith in Christ. God's ministry through Kenneth and Sherry Wagner along with the staff of UNI+ED impacts the lives of more than 200 youth each week.