Visiting Holy Angels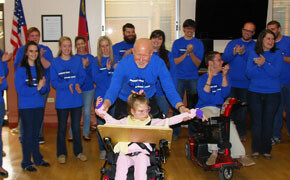 The Southern Wesleyan University Choir sang to the residents and staff of Holy Angels in Belmont, N.C. during their tour over Spring Break. Dr. Don Campbell, the choir's director, is pictured with Campbell Lincicome as choir members look on.
The visit left a lasting impression on Champ Squires, a member of the SWU Choir who has cerebral palsy.
"When I entered the doors of the holy angels facility I was humbled, Blessed, and amazed," Squires said. "By the time I left holy angels I knew that I had literally seen the face of God and his angels through the children and through the individual that worked at this facility.
"After the performance, we took a tour of the facility and were touched by the love and care given to these precious children and adults with a wide variety of disabilities," Campbell said, adding that the stop at Holy Angels to visit the Sisters of Mercy ministry was a high point in their tour.
"Another important lesson that this experience at holy angels told me is that life has given me a platform to empower to motivate and to inspire the world had to show them that there is absolutely nothing impossible with God if we just believe," Squires said.
For details about Holy Angels, visit their website at www.holyangelsnc.org.