South Carolina Region 1 Science Fair
Hosted by Southern Wesleyan University
Serving South Carolina Region 1
Anderson, Abbeville, Laurens, Greenville, Greenwood, Oconee & Pickens Counties
March 11, 2016
Registration deadline: February 19, 2016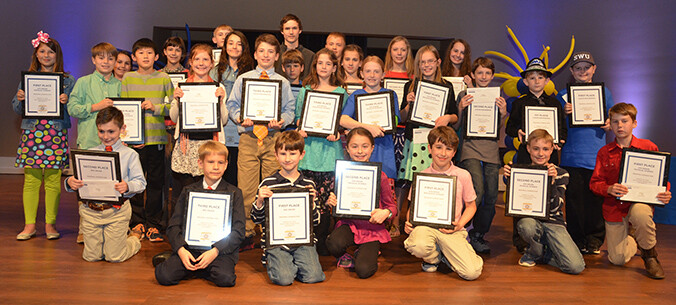 Science fairs provide an opportunity for students, 3rd through 12th grades, who are interested in science and technology to pursue their personal areas of interest and to display their research as a presentation in a public competitive forum. The Regional Science Fair at Southern Wesleyan University serves the counties of Anderson, Abbeville, Laurens, Greenville, Greenwood, Oconee, and Pickens and works to create enthusiasm in science and technology through project-based inquiry. The fair gives area students the chance to compete for cash awards and other prizes.
Helpful Links
You can read the project guidelines here.
Find project ideas, score cards, the campus map and more.
Sign up for the 2016 Science Fair!
Schedule for 2016 Science Fair
The final schedule is to be determined.
2015 Regional Science Fair Award Winners
Winners in each division received a plaque and cash awards: 1st place, $50; 2nd place, $30; 3rd place, $20.
Third-Grade:
Third-place – Chuckie Brooks, Oconee Christian Academy
Second-place – Colton Cooper, Oconee Christian Academy
First-place – Seth Watson, Watson Academy
Fourth-Grade Biological:
Third-place – Caroline Brown, Northside Elementary School
Second-place – Mattie Adair, Oconee Christian Academy
First-place – Liam Chandler, Clemson Elementary School
Fourth-Grade Physical Science:
Third-place – Brianna Smith, Northside Elementary School
Second-place – Haley Williams, Clemson Elementary School
First-place – Ryan Cloer, Clemson Elementary School
Fifth-Grade Biological Science:
Third-place – Shane Forrester, Clemson Elementary School
Second-place – Sarah Watson, Watson Academy
First-place – Rori Pumphrey, Keowee Elementary School
Fifth-Grade Physical Science:
Third-place – Evan Craven and Kevin Zhu, Clemson Elementary School
Second-place – Cohl Harding, Northside Elementary School
First-place – Kirkley Fallaw, Six Mile Elementary School
Junior Engineering:
Third-place – Richard Brown, Northside Elementary School
Second-place – Duncan Purser, Keowee Elementary School
First-place – Justin Rochester and Ford McIver, Northside Elementary School
Sixth and Seventh-Grade:
Third-place – William Hubbard, R.C Edwards Middle School
Second-place – Sydney Weeks, R.C. Edwards Middle School
First-place – Emma Culberson, French Bilingual School
Eighth-Grade and High School:
Third-place – Julia Blouin, R.C. Edwards Middle School
Second-place – Makenna Berry, Berry Academy
First-place – Emily Willis, Willis Homeschool
Senior Engineering:
Second-place – Waylon Somero, Somero Academy
First-place – Jesse Springer, Springer Homeschool
Water Drop Award (South Carolina American Water Works Association Junior Award):
Sarah Watson, Watson Academy
South Carolina American Water Works Association Senior Award & Stockholm Junior Water Prize:
Emily Willis, Willis Family Homeschool
Grand Champion:
Liam Chandler - Clemson Elementary School