BS in Recreation and Sport Management
WHAT IS THE BACHELOR OF SCIENCE IN Recreation and Sport Management?
This degree program develops in students the competencies in the areas of Recreation and Sport Management, based on an educated Christian philosophy and the belief that God created a time for activities outside the traditional work schedule. Furthermore, SWU graduates in this field will be strong and purpose-driven warriors for the Lord in helping others meet and grow in faith through sport and recreation positions.
Students can choose one of two concentration tracks: Sport Management concentration or Outdoor Leadership concentration.
WHAT DO STUDENTS ENROLLED IN THE Recreation and Sport Management PROGRAM DO?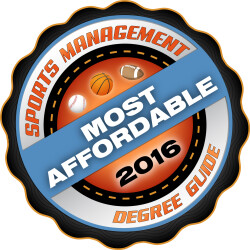 Students in RSM program will learn to integrate faith in the field of recreation and sport and be in a position to take on challenging roles as interns and employees in college athletic programs, county and city recreation facilities, professional sports teams, sport-oriented venues, athletically related nonprofit organizations, gyms and fitness facilities, resorts, youth sports organizations, sports councils, parks, schools, and even equipment and apparel manufacturing firms. Additionally, you will be well equipped to enroll in graduate programs in the field. Whether you choose to concentrate in Outdoor Recreation or Sport Management, this program will be rigorous yet fun-filled and rewarding.
Students in the Sport Management concentration have the chance to:
Hear from Experts in the field as guest speakers in class

Visit stadiums and centers in the local area and places like the new downtown ballpark in Charlotte, NC

Attend conferences in Sport and Entertainment Management

Participate in exciting internships as part of your degree requirements

Learn the business of sports at multiple levels from behind the scenes and in the trenches

Explore how faith is a part of sport and athletics
Students in the Outdoor Leadership concentration have the chance to:
Learn hard skills for outdoor leadership
Explore foundations for experiential education
Learn ropes course skills and work at SWU's Challenge Course
Acquire wilderness medical skills
Hike the Foothills Trail in the Jocassee Gorges area named

one of '50 of the World's Last Great Places' by National Geographic Magazine
Kayak on the Upstate's beautiful lakes
Connect with outdoor professionals at the Christian Adventure Association conference
Participate in internships at camps and adventure outfitters
Learn to use outdoor adventures to connect people to God
IS THIS MAJOR RIGHT FOR YOU?
You might want to consider our Recreation and Sport Management major if you have a passion for recreation and sports and want to work in the field or if you have a desire to continue on to earn a graduate degree in programs such as sport management. If you eat, sleep, and breathe sports, this may be the right place for you; realizing, that the recreation and sports world is a place to have fun every day in your work, but it is also a labor intensive and highly sought after career field. If you are really engaged in making sports and recreation your life calling, then we can help you gain entry into this arena.
ABOUT OUR STUDENTS
In the RSM program, students will receive hands-on student-to-professor contact, with live classroom instruction taught in a fun-filled, challenging, engaging environment. Often students will hear from guest speakers in the field and will travel outside the classroom in a truly experiential learning environment. They will receive multiple forms of instruction from professors who have worked in the field and will hear from some of the best experts in the state and the region in recreation and sports.
ABOUT OUR GRADUATES
Southern Wesleyan University Recreation and Sport Management majors join a confident group of growing alumni that are well equipped to enter graduate schools and career opportunities at the local, state, regional, and even the national and international levels.