Discovering Purpose, Passion, Possibilities
Purpose. Passion. Possibilities. Throughout my years in ministry it has been my desire to help people discover God's plan for these three things in their life. I was blessed to have great mentors in my life as a teen including 3 youth pastors who couldn't have been more different.
Jeffery was short, like myself, and loved basketball. It was under his ministry that I stopped the rededication roller coaster and fully committed by life to Christ. I still have the discipleship notebook he led our youth group through and will never forget our days of playing "21" in the church gym. Jeffery was authentic. He embraced who he was and taught me to do the same. I still have the Student Bible he gave me with an inscribed note inside the day he left our church.
Mike was tall man who wasn't good at basketball at all. He was so different than Jeffery, yet Mike and I connected through our love for Batman and a good joke. Mike was gifted musically and led our youth group on a mission trip to New York that included our youth choir performing almost every night. Mike was one of the most naturally funny men I have ever met and he cared deeply for our group even though many of us were going through the rebellious phase of life at the same time. Like Jeffery, Mike was authentic, and that mission trip had a profound impact on my life. As Mike's ministry came to a close, my family and I found ourselves in a church transition as well.
We landed at my best friends' church where they had just hired a new youth pastor: a Central Wesleyan College student name Jim. At this point in my life, I was serious about my faith, but had never considered full-time ministry an option. I had certainly not felt a pull from the Lord in that direction when I met Jim. The only thing Jim had in common with Mike or Jeffrey was his authentic faith. He quickly became one of my best friends. As we prepared for youth camp he informed a few of us that he had enrolled us in the leader's class at youth camp. This involved being separated from the rest of the teens and being in a group of 20 students who would go through a special curriculum that week. I found myself taking a spiritual gifts test for the first time. Imagine my shock when "Evangelist" turned out to be my highest score. I asked our class leader what that could mean and she asked me if i had every thought about full-time ministry. My reply was "No" and "Not really interested." Later that morning God did indeed confirm that call to ministry during the camp quiet time. That night I told Jim how fearful I was. At that time, the only full-time ministry options I could see were senior pastor, youth pastor, and choir director (this was the 90's remember). I expressed to Jim how inadequate I felt to fill any of those roles. "What is God thinking?," I asked. "What if I fail?" "God will never call you to do something that He won't equip you to do," was Jim's calm reply. I called my parents after our conversation to inform them of what was happening and God had been speaking to them as well. They already knew the call was coming. I was blessed to have Jim and our senior pastor, CW, give me opportunities for ministry including preaching when I was only 16 years old. Talk about getting thrown in the fire! That fall, I attended a class with Jim at Central Wesleyan taught by Dr. Bob Black. I remember he taught the class from the first person view of a historical religious figure. I was mesmerized and hooked. I left that day knowing that CWC was the place for me and God made a way. Jim left our church a few years later to pursue seminary just before I started classes at what would become Southern Wesleyan University.
Jeffrey, Mike, and Jim each had a profound impact on helping me realize my purpose in life. In their own unique ways, they helped me discover and develop my passions. They also opened my eyes to the possibilities of a life fully devoted to Christ. When I became a youth pastor, that's all I wanted to do. I wanted every student to realize what God could do in and through them. I was honest about the price of ministry and the physical, emotional, and financial toll it can take on a person. Through all of that, I believe God enabled me to express a joy for ministry because that's what I genuinely believed He created me to do.
I was blessed to serve in a church and denomination that naturally plan opportunities for a supernatural encounter through youth camps, missions trips, and youth conventions. When you spend hours on a church van over thousands of miles through the years you have an opportunity to build relationships and have conversations that you sometimes can't have on a Wednesday night at youth group. How many special moments and conversations was I able to have in hotel hallways, sleeping on the floor in places like South Dakota, and in youth camp cabins? I tried to be exactly what Jeffrey, Mike, and Jim taught me to be: authentic. I tried to give every student an opportunity to serve and lead. If a student felt lead to ministry then I would give them the opportunity to speak at youth group and help them work on that gift. If they were gifted musically I got their help in the youth praise band. I tried to teach all my students that we are all called to do something and become the person God created us to be.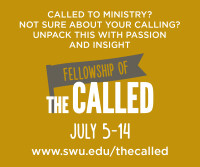 Today, there are doctors, lawyers, assistant pastors, youth pastors, children's pastors, campus pastors, teachers, nurses, stay at home moms, business people, and care givers serving around the world who came through our youth ministry. I am proud of all of them and deeply honored of the opportunity I had to invest in them. It is deeply humbling when I meet students who have been called to ministry under their leadership. What are your students called to do? How are you helping them discover their purpose, passion, and possibilities? How is God using your authenticity to shine through to them in a world where everyone seems fake? Who were the Jeffrey, Mike, and Jim's in your life?