Biology Honor Society chapter established at SWU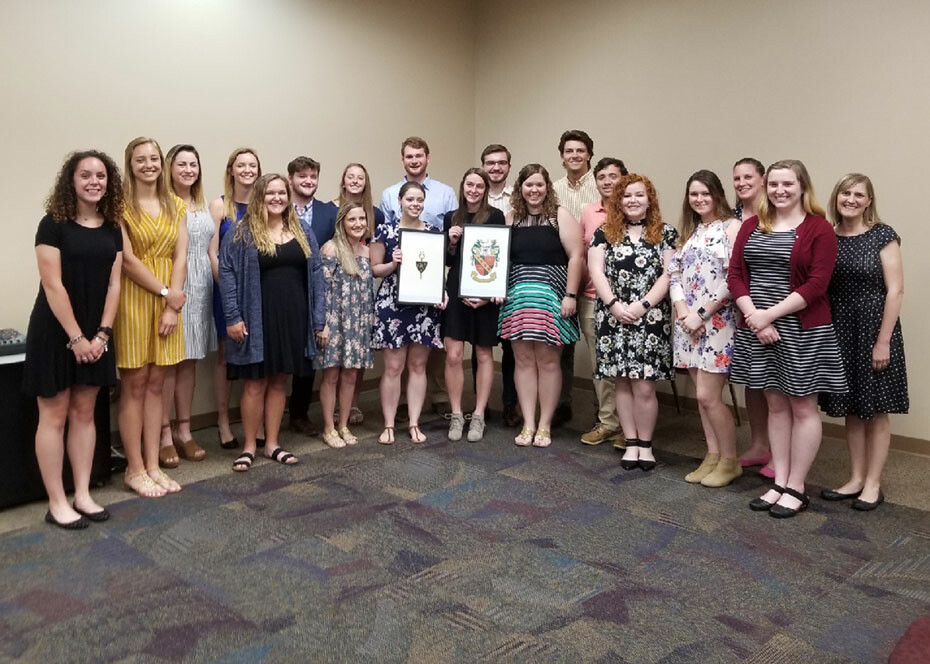 A new chapter of Beta Beta Beta Biological Honor Society has been established at Southern Wesleyan University.
On April 17, 22 charter members, 18 regular members and four associate members were inducted into the newly formed Eta Delta Beta chapter. Dr. Rocky Nation, currently associate professor of biology at Anderson University, provided the keynote address. Beta Beta Beta Honor Society was founded in 1922 and has chapters throughout the United States and Puerto Rico.
Students at SWU majoring in biology, pre-medicine, or exercise science are eligible for regular membership by completing 45 collegiate credits, at least three courses in biology, and maintaining a minimum 3.0 GPA overall and in Biology.
Dr. Michele Eller and Prof. Staci Johnson serve as the faculty advisors for the Eta Delta Beta chapter.
Chapter officers are Emily Floyd of Edmond, Okla., president; Dakota Smith of Easley, vice president; Haley McLaughlin of Greenwood, secretary; and Samantha Calcutt of Walterboro, historian.
Regular members are Kali Berrigan, North Charleston; Alexa Bombich, Pawleys Island; Samantha Calcutt, Walterboro; Emily Corriher, Greenwood; Madelyn Edwards, Aiken; Zach Ehrhardt, Neeses; Landon Hewell, Starr; Emily Floyd, Edmond, Okla.; Amber Goss, Newry; Davis Hendricks, Pickens; Dustin Jones, Pendleton; Haley McLaughlin, Greenwood; Matt Morgan, Richmond, Va.; Kayla Parks, Belvidere, N.C.; Ara Singleton, Pickens; Dakota Smith, Easley; Jessica Sparks, Seneca; and Hannah Todd, Anderson.
Associate members are Evan Bier, Salisbury, Md.; Taylor Broadwell, Anderson; Sarah Stone, Simpsonville; and Steele Willoughby, Nichols.
Advisors are Staci Johnson, associate professor of biology; and Dr. Michele Eller, assistant professor of biology.
Graduate members are Dr. Michelle Eller, Staci Johnson, and Dr. Walt Sinnamon.
For details about Beta Beta Beta, contact Johnson at .
Southern Wesleyan University is a Christ-centered, student-focused, faith-filled community that offers inventive learning experiences. The university endeavors to prepare its students to be dedicated scholars and servant-leaders who impact the world for Christ. At the same time, it's Southern Wesleyan's desire to practice contagious generosity within the surrounding community. For details about degree programs, go online to swu.edu.
Follow SWU:
https://www.facebook.com/southernwesleyan/
http://www.twitter.com/SWU_edu