Four benches dedicated at Sheriff National Guard Memorial Flag Plaza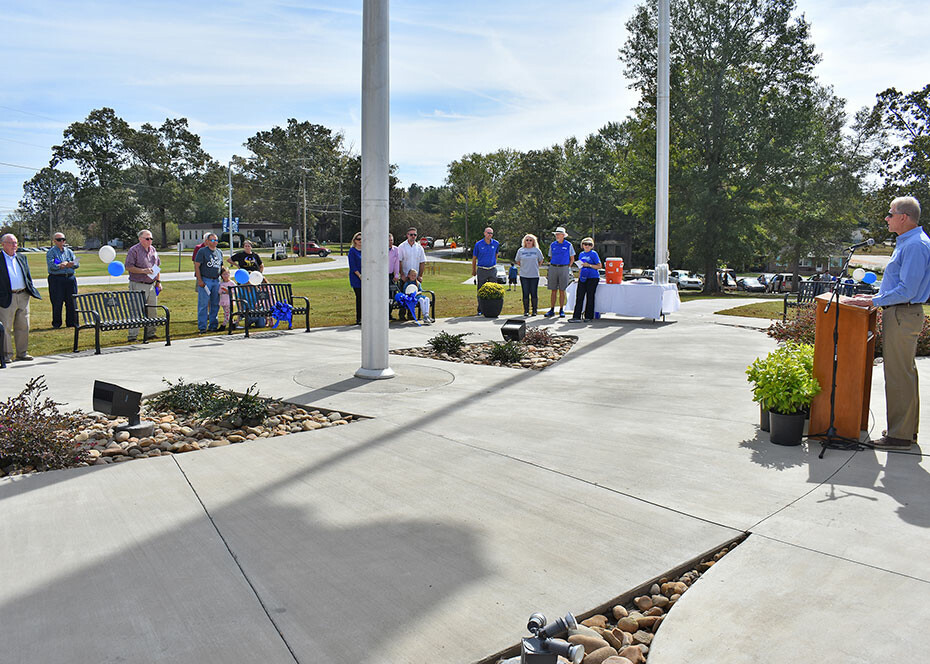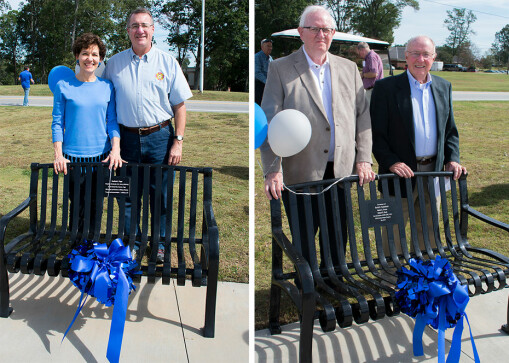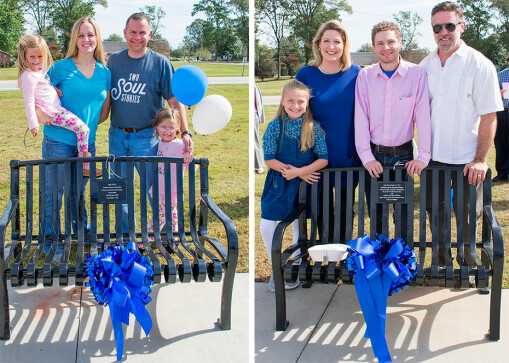 Since it was first dedicated on Veterans Day in 2014, the Sheriff National Guard Memorial Flag Plaza on Southern Wesleyan University's Central campus has been a place for many to pause and reflect upon those who put on the uniform in service to their country.
On Oct. 21, four additional benches were dedicated at the plaza, honoring those with Southern Wesleyan ties who served in the U.S. military. The plaza, located near the campus entrance, was dedicated to the late Col. Jimmy D. Sheriff and his widow, Gwen Anne Campbell Sheriff, and to the soldiers and spouses of the S.C. National Guard, Battery C, 2nd Battalion (AW) (SP) 263rdADA.
Col. Sheriff served in the Clemson "Charlie Battery" from 1959-1977 and graduated from Southern Wesleyan in 1964 with an A.B. degree. A 1963 SWU graduate, Anne is a retired educator.
Southern Wesleyan University president, Dr. Todd Voss, led in a dedicatory prayer and Rev. Ken Dill, associate vice president for spiritual life and university chaplain, led in a litany of dedication, concluding, "We dedicate these benches to the glory of God and to our good in the name of the Father and the Son and the Holy Spirit."
A bench was given by Dr. Bradford L. Fipps, Chaplain (Colonel) U.S. Army (Retired) and his beloved wife, Pamela L. Fipps, SWU alumni and partners in military ministry, inscribed with the Bible verse Matthew 5:9: "Blessed are the peacemakers." A 1982 SWU graduate, Bradford is a professor of religion at the university and served nearly 40 years of active military duty. Pamela is a 1979 graduate.
A bench was given by Dr. Bob Nash, David O. Funderburk and James G. Green the first graduates of SWU (CWC) to earn science degrees, in 1961. Funderburk lives in Stone Mountain, Ga., with his wife Mozelle. He continued his education, earning a master of science degree from the University of Georgia and taught science courses in the DeKalb County School district, as well as Fernbank Science Center in Atlanta. Green taught high school science in Georgia public schools and retired after 35 years. Nash taught biology at Wren High School and obtained a graduate degree from Clemson University. He returned to Southern Wesleyan, where he taught science and computer programming courses for 35 years. He continues to teach science at Greenville Technical College Charter High School and chairs their board of directors.
A bench was given by Tony Payne, Southern Wesleyan's associate vice president for development, and his wife Amy and daughters Dani and Ellie. Payne was a staff sergeant with the U.S. Marine Corps. He also earned his MBA from SWU in 2012. On the bench is inscribed the Bible verse John 15:13: "Greater Love has no one than this: to lay down one's life for one's friends." Also on the bench is the USMC motto "Semper Fidelis," Latin for "Always Faithful." On the back of the bench is the inscription "Honor, Courage, Commitment. United States Marine Corps. May God bless all that have served, are currently serving and will serve in the defense of our great nation."
A bench was given by Dr. Lisa C. McWherter, Southern Wesleyan's vice president for advancement, in memory of her father, the Honorable Charles H. McWherter, who served in the United States Navy, and also was an attorney for 50 years, part of which was devoted to serving as a judge. The bench was also named in honor of her children: Jordan D. Hanner, Logan N. Hanner and Rachel G. Hanner. Along with Dr. McWherter was her husband, Dr. Doug Hanner, her mother, Dr. Ernestine McWherter, son and SWU student Jordan Hanner and daughter Rachel.
Also involved in organizing the dedication program were SWU's Office of Advancement; the SWU Department of Athletics; SWU's Office of Marketing; SWU's Physical Plant and director Jonathan Catron; Pioneer College Caterers; and Anne Sheriff.
Southern Wesleyan University is a Christ-centered, student-focused, faith-filled community that offers inventive learning experiences. The university endeavors to prepare its students to be dedicated scholars and servant-leaders who impact the world for Christ. At the same time, it's Southern Wesleyan's desire to practice contagious generosity within the surrounding community. For details about degree programs, go online to swu.edu.
Follow SWU:
https://www.facebook.com/southernwesleyan/
http://www.twitter.com/SWU_edu
http://pinterest.com/swuedu/
http://instagram.com/swu_edu