University Singers is a mixed ensemble that exalts Christ through song; including contemporary worship music and hymns, as well as other 8 part harmony a cappella pieces and anything from Disney to patriotic music. The team grows students' musicianship in incredible ways! Led by Reverends Gail and Bob Kerstetter, audiences see the awesome power of Christ displayed as they share their personal testimonies and sing out the experiences of their hearts. Support the Singers and their ministry with a gift today: text SWUSINGERS to 41444 or click the link below!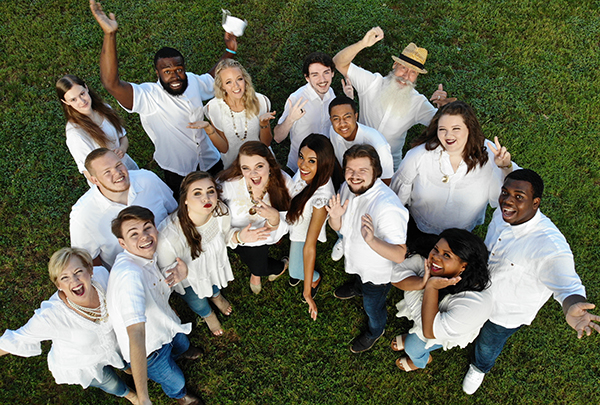 Front row: Rev. Gail Kerstetter, Caleb Perkins, Elisabeth Gibson, Katherine Wiggins, Teia Carter, Joshua Amerson, Sierra Makupson; Middle Row: Jeremy Rish, AJ Harris, Emily Garrett, Daniel Williams; Back Row: Emily Matherlee, Rasheem Simpson, Grace Surrett, Alex Birch, Rev. Bob Kerstetter
The Singers travel about 10 weekends each semester leading worship in various locations including churches, camps, and chapel services. They also have a unique ministry to the US military, leading worship in places such as Ft. Bragg, Ft. Jackson, Parris Island, and Ft. Benning, as well as bases and DOD schools in Germany and Italy. The group has sung before more than 45,000 military service members, recorded six CDs, and has witnessed to thousands of individuals for Christ!
---
Upcoming Events
Due to the nationwide response to COVID-19 and subsequent travel limitations, the 2020-2021 tour schedule has not yet been confirmed. Please check back for updates, or contact Rev. Gail Kerstetter at for more information.