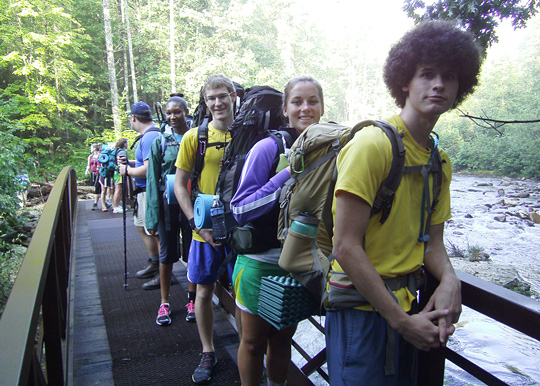 What is SWOOP
SWOOP is the Southern Wesleyan Outdoor Orientation Program.
What is the purpose of SWOOP?
SWOOP provides incoming freshmen a meaningful rite of passage experience as they transition from high school to SWU. Incoming students will have an opportunity to build meaningful relationships with other incoming students and a faculty/staff member.
What happens during SWOOP?
The heart of SWOOP is the 4-day, 3-night backpacking experience on the Foothills Trail.
What else happens in addition to backpacking?
Participants will have a daily solo experience and there will be a group campfire at night for reflection and sharing. Further, participants will cook, hike and share life together during their wilderness experience.
Who leads SWOOP?
A SWU faculty or staff member will lead each group. Groups typically have female and male trail assistants from among returning SWU students.
Who can participate?
SWOOP is open to any incoming student who is ready for the challenge. Participants must be able to carry a 25-pound pack over mountainous terrain. Average hiking days will cover 4-5 miles. This hike covers the most remote and challenging part of the Foothills Trail.
Do I have to provide my own backpacking equipment?
No, SWU can arrange to provide gear for you. However, those who have their own gear likely will want to use it.
Do participants get course credit for SWOOP?
Yes, students earn one hour of course credit for SEMR 1571.
What is the cost?
The SWOOP course fee is $300 in addition to the block tuition for the fall semester.