Evatt Heritage Center
In February of 1904, a group that included Rev. Eber Teter met near a well in a field just behind where the Rickman Library now stands. The group was to hear a proposal for locating in Central a "southern school" for educating Wesleyan Methodist youth. As the account goes,
"A brother took from his pocket a copy of the New Testament, and after reading some appropriate verses, several fervent prayers were offered that the blessings of Almighty God might rest upon the institution. After prayers, 'Praise God From Whom All Blessings Flow' was repeatedly sung with a fervency that caused some neighboring workmen to stop their labors and listen with awe."
Such begins the story of the institution now called Southern Wesleyan University. The Evatt Heritage Center, Southern Wesleyan University's Special Collections and Archives, tells the story of the place as well as of the people who have made it what it is over the years. It also tells the story of God's provision. Without His hand, there would not be a place or a people about which to tell this story.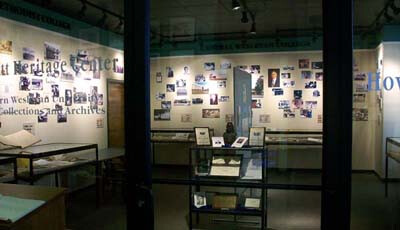 The Heritage Center Display Room tells this story through museum displays, including through permanent wall-mounted photos, historical items in display cases, and temporary displays. This room is open during the normal operating hours of the Rickman Library.
The Special Collections and Archives tells this story through its collection of official university publications and letters, books, photos, and papers donated by the families of Ruth Ubele, Roy S. Nicholson, Claude R. Rickman, Virgil Mitchell, Marling Elliott, and others. Access to material in the Special Collections and Archives is by appointment only. Contact Shannon Brooks with inquiries.