Hosted by Southern Wesleyan University
Serving South Carolina Region 1
Anderson, Abbeville, Laurens, Greenville, Greenwood, Oconee & Pickens Counties
Friday, March 10, 2017
Registration deadline: February 17, 2017
Information for High School Entries
The South Carolina Region 1 Science Fair requires approval and additional oversight for projects that would be eligible for the Intel International Science Fair. These requirements are applicable to all projects entered into the High School Divisions. See our High School Division page to download these required forms.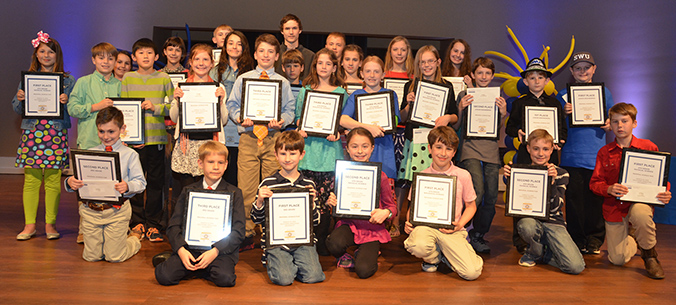 Science fairs provide an opportunity for students, 3rd through 12th grades, who are interested in science and technology to pursue their personal areas of interest and to display their research as a presentation in a public competitive forum. The Regional Science Fair at Southern Wesleyan University serves the counties of Anderson, Abbeville, Laurens, Greenville, Greenwood, Oconee, and Pickens and works to create enthusiasm in science and technology through project-based inquiry. The fair gives area students the chance to compete for cash awards and other prizes.
Helpful Links
You can read the project guidelines here.
Find project ideas, score cards, the campus map and more.
Schedule of 2017 South Carolina Region 1 Science Fair
This schedule is subject to change based on the total number of participants.
8:00–9:15 – Participants arrive, check in at registration table, and set up projects – Founders Hall.
9:15–9:30 – Opening Assembly in Newton Hobson Fine Arts Center Auditorium.
9:15–11:30 — Participants with Science Club Members at fun and education activities around campus or speaking with judges in Founders Hall.
Parents and teachers are invited to the Hospitality Room in Nicholson Room of Rickman Library. You are also welcome to visit or just relax in the library. Computers, books, and magazines are available for your use. Coffee is welcome.
The coffee shop and campus bookstore are open on the 1st floor of the Campus Life Center.
11:30–1:00 — Participants, parents, and teachers are invited to lunch in the Dining Hall. Participating students will receive a meal voucher for this meal. Others may dine at the guest rate of $6.
1:15 — Awards in Newton Hobson Fine Arts Center Auditorium.
2016 Regional Science Fair Award Winners
Third-Grade
3 – Seth Watson – Watson Academy
2 – Colleen DiMaio – Hickory Hill Homeschool Academy
1 – Kylie Willis – Mount Lebanon Elementary School
Fourth-Grade
3 – Kamari Hudson – Northside Elementary School
2 – Claire Lindsey – Northside Elementary School
1 – Jackson Lee-Soslik – Clemson Elementary School
Fifth-Grade Biological Science
3 – Tyriannah Williams – Northside Elementary School
2 – Anna White – Keowee Elementary School
1 – Brianna Smith – Northside Elementary School
Fifth-Grade Physical Science – Division A
3 – Tyler Peace – A.R. Lewis Elementary School
2 – Samantha Fasalino – Keowee Elementary School
1 – Richard Brown – Northside Elementary School
Fifth-Grade Physical Science – Division B
3 – Casen Shoemaker – Six Mile Elementary School
2 – Jared Haynes – Six Mile Elementary School
1 – Will Trotter – Six Mile Elementary School
Sixth-Grade
3 – Carter Berry – Berry Academy
2 – Katie Grimes – RC Edwards Middle School
1 – Carolin Justus – RC Edwards Middle School
Seventh-Grade Biological Science
3 – Nimasha Jayasingle – RC Edwards Middle School
2 – Sam Bruce – RC Edwards Middle School
1 – Zoe Willis – Riverside Middle School
Seventh-Grade Physical Science
3 – Henley Armon – Gray Court Owings Middle School
2 – Sarah Collins – Gray Court Owings Middle School
1 – Trinaty Noble – Laurens Middle School
Eighth-Grade – Physical Science
3 – Josh Baskins – Gray Court Owings Middle School
2 – Nathan Marks – Marks Academy
1 – Erica Guell – Rose Academy
Eighth-Grade – Biological
3 – Grace Whitmire – Gray Court Owings Middle School
2 – Addison Berry – Berry Academy
1 – Callie Williamson – Williamson Classical Academy
High School
2 – Makenna Berry – Berry Academy
1 – Ronak Malde, Kevin Tian, Brendon Lee – Southside High School
Engineering
2 – Zak Brown, Andrea Choice, Taj Amaker – Sanders Middle School
1 – Anaiya Amaker, Brenda Bennett, Ke'aja Bluford – Sanders Middle School
Computer Science
Vineet Saraf – RC Edwards Middle School
Junior Water Award
Zoe Willis – Riverside Middle School
AWWA and Stockholm Senior Water
Ronak Malde, Kevin Tian, Brendon Lee – Southside High School