Regional Science Fair
Hosted by Southern Wesleyan University
March 13, 2015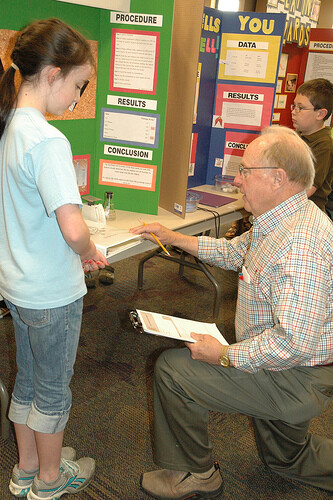 Registration deadline: February 27, 2015
Science fairs provide an opportunity for students, 3rd through 12th grades, who are interested in science and technology to pursue their personal areas of interest and to display their research as a presentation in a public competitive forum. The Regional Science Fair at Southern Wesleyan University serves the counties of Pickens, Oconee, and Anderson and works to create enthusiasm in science and technology through project-based inquiry. The fair gives area students the chance to compete for cash awards and other prizes.
Helpful Links
You can read the project guidelines here.
Find project ideas, score cards, the campus map and more.
Sign up for the 2014 Science Fair!
Tentative Schedule for 2015
| | |
| --- | --- |
| 8:00-9:00 | Arrive, check in at registration table, and set up project – Founders Hall |
| 9:00-9:15 | Opening Assembly in Newton Hobson Fine Arts Center Auditorium |
| 9:00-10:30 | Participants with Science Club members at chosen activities – specific activities to be announced |
| 10:15-11:15 | Session leaders will return participants to Founders Hall to answer judge's questions. (Students only – no parents or teachers, please). Activities and sessions for parents and teachers – specific sessions to be announced. |
| 11:30-12:30 | Lunch for participants in the Dining Commons. |
| 11:30-1:30 | Projects are open for public viewing. |
| 12:45 | Awards Ceremony in Newton Hobson Fine Arts Center Auditorium |
Following Awards Ceremony, return to Founders Hall to collect project board, participant goody bag, and other materials.
2014 Regional Science Fair Award Winners
Winners in each division received a plaque and cash awards: 1st place, $50; 2nd place, $30; 3rd place, $20.
3rd Grade Division
1st Place - Mattie Adair, Oconee Christian Academy
2nd Place - Olivia Nix, Oconee Christian Academy
4th Grade Biological Science
1st Place - Brianna Thomason,

Northside Elementary School

2nd Place - Riya Naik, Northside Elementary School
3rd Place -

Laura Ivankovic

, Clemson Elementary School
4th Grade Physical Science A
1st Place - Katie Tallie, Talley Homeschool
2nd Place - Aiden Sullivan,

Northside Elementary School

3rd Place - Pheoby Hayes, Central Elementary
4th Grade Physical Science B
1st Place - Sarah Watson, Watson Academy
2nd Place - Rohan Hayes, Central Elementary
3rd Place - Emily Parham,

Central Elementary
5th Grade Biological Science
1st Place - Levi Leard,

Oconee Christian Academy

2nd Place - Layla Forrester, Six Mile Elementary School
3rd Place - Matthew McCaskill, Clemson Elementary School
5th Grade Physical Science
1st Place - Bryant Garrison,

Six Mile Elementary School

2nd Place - Jacob Hendricks,

Six Mile Elementary School

3rd Place - Jackson Crosby,

Six Mile Elementary School
6th & 7th Grade Division
1st Place - Summer Feiste, RC Edwards Middle School
2nd Place - Toby Pasui & Sam Talley, Talley Homeschool & Middlecreek Classical Academy
3rd Place - Julia Blouin,

RC Edwards Middle School
8th Grade & High School Division
1st Place - Emily Willis, Willis Homeschool
2nd Place - Hannah Proctor, Proctor Homeschool
3rd Place - Tinley Johnson, Millstone Academy
Engineering Division
2nd Place - Hisham Dimashkieh, Clemson Elementary School
3rd Place - John Thomas Turpin, RC Edwards Middle School
BorgWarner Engineering Award - winner of $100 and special trophy
Gunnison Alexander, Northside Elementary School
Grand Champion Award - top project at fair, received a Kindle Fire
Katie Talley, Talley Homeschool
SWU Computer Science Award - top project to utilize computes, received a laptop computer
Emily Willis, Willis Homeschool
Sponsors