Chappell receives Spittal Award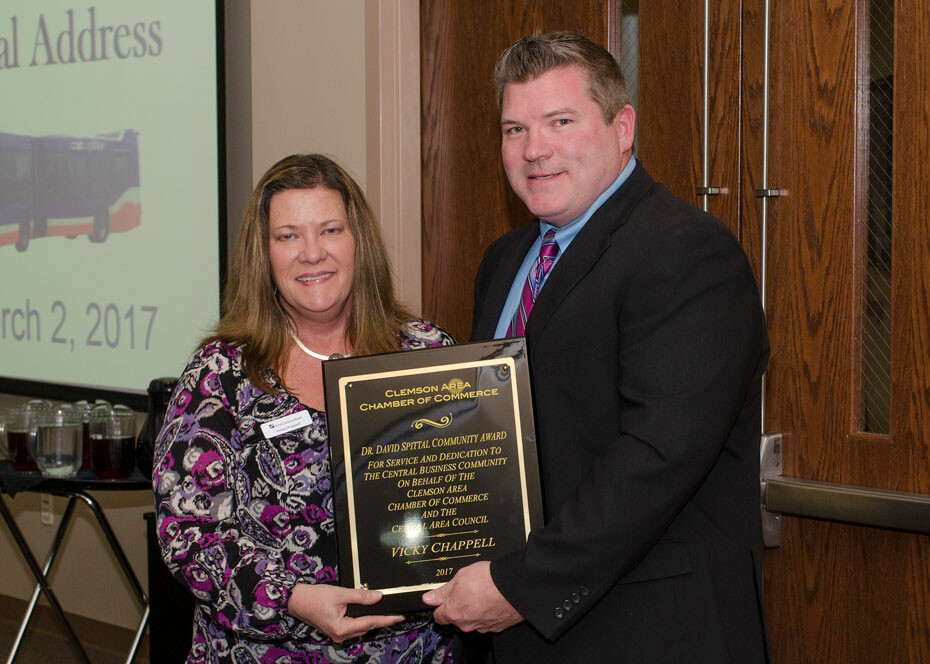 The Dr. David Spittal Community Award was presented to Vicky Chappell of First Citizens Bank for her for her volunteer efforts in promoting the town of Central's first Human Checkers Match and Taste of Central this past October.
Chappell is assistant vice president / service manager II at the Central First Citizens branch.
The award is named for former Southern Wesleyan University president Dr. David Spittal. It is presented to an individual or group who makes significant contributions to the greater good of the Central community and the Clemson Area Chamber of Commerce, with an emphasis on citizenship and service; demonstrates enthusiasm, leadership, initiative, idealism, commitment, innovation and vision; consistently illustrates the ability to develop positive relationships and the skill to build consensus among community leaders; and effectively utilizes resources outside the scope of employment and responsibility. Recipients or their employers must be a member in good standing of the Clemson Area Chamber of Commerce.
The award was presented March 2 during the State of Central dinner, which is hosted annually at Southern Wesleyan University and organized by Clemson Area Chamber of Commerce and the Central Area Business Council.
Martha Jones was awarded Business of the Year for Consign and Design; the Lifetime Volunteer Award was presented posthumously to Ronnie Hughes, with his son Glenn Hughes receiving the award on his behalf; and Bobby Busha, with daughter Teresa Busha Baxter receiving the award on his behalf; and the 2017 Central Volunteer of the Year award was presented to Ed Reynolds, Franklin Reynolds and Isaiah Reynolds. Ed is Central's fire chief.
State of Central attendees also heard updates from Mac Martin, mayor of Central, Dr. Lisa McWherter, Southern Wesleyan University's vice president for advancement, and Al Babinicz, CEO and general manager of Clemson Area Transit.
Title sponsor was Southern Wesleyan University, and Award Sponsor was First Citizens Bank. Table sponsors were Southern Wesleyan University, First Citizens Bank, the town of Central, Trehel Corporation, Brookdale Senior Living Solutions, 105.5 The Roar, Founders Federal Credit Union, J.W. Martin Real Estate and Central Heritage Society.
Southern Wesleyan University is a Christ-centered, student-focused learning community devoted to transforming lives by challenging students to be dedicated scholars and servant-leaders who impact the world for Christ. For details about degree programs, go online to swu.edu.