Saying 'thanks' to elected and appointed officials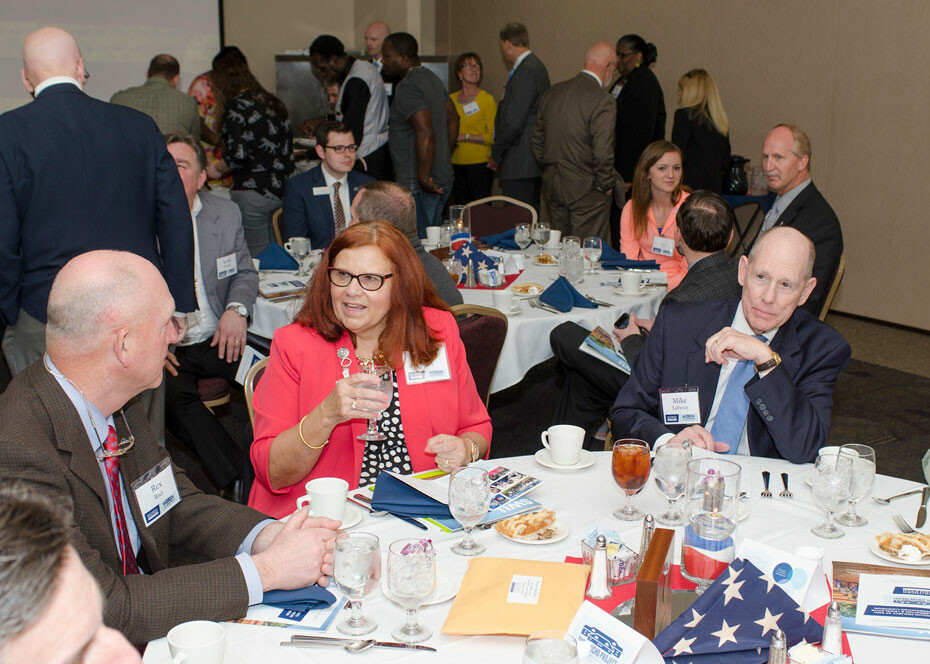 Many of the area's elected and appointed officials in federal, state and local government gathered Feb. 27 at Southern Wesleyan University to celebrate collaboration on key projects that benefit not only the university and its students, but the surrounding community.
At Southern Wesleyan's Legislative Appreciation and Jericho Project Celebration Luncheon, Dr. Todd Voss, university president, noted the impact of partnerships that have made possible inventive new degree programs, including the RN to BSN program, the MBA with Health Care Concentration and a new early childhood degree program. He also spoke about transformation of the Central campus, including the development of a new residence hall with ample community space, a new amphitheater and enhancements to campus safety.
"Partnerships are our future; together we're stronger and better," Voss said.
Among those thanking state lawmakers for their support of state tuition assistance were Katy Dyches, a member of the University Singers and a music major from North Augusta; and James McDonald, associate professor of criminal justice and forensic science.
"What Dr. Voss is doing here, the board of trustees, his faculty and staff, is truly transformational, but they couldn't do it without the support from our city and county officials with their support of the infrastructure of creating that community that is so important to educating our students. They couldn't do it without the support of our state legislators," said Mike LeFever, President and CEO of SCICU (South Carolina Independent Colleges and Universities).
McDonald read emails from a group of students and graduates – mainly law enforcement officers, some of whom have received promotions, and a deputy sheriff deployed to Kuwait – expressing appreciation for the guidance of Southern Wesleyan University professors and life-changing advice given while they were students.
"I can't take total credit for this gratitude," McDonald said. "Many people worked very hard in years gone by. Many have sacrificed, partnered, petitioned, made policy and made provisions available. It has happened in the past. It's happening today. It is my prayer that it will continue to happen in the future. You may have not even be aware of how you have been a part of all this, but if you are here today, you are part of the body. And for that I say 'thank you.'"
"I am amazed at the growth and energy at Southern Wesleyan," said District 3 Rep. Gary Clary. "I think Dr. Voss and the team he has here has truly embraced public-private collaboration. I know that what you do for our area is so impactful." Clary said he has received more "thank you" letters from Southern Wesleyan students than anywhere else.
District 2 Sen. Rex Rice said that the type of education Southern Wesleyan offers goes beyond educating students, it instills character.
The luncheon also highlighted The Jericho Project, a housing community that will serve individuals with special needs and disabilities and where a group of Southern Wesleyan students will offer mentoring and other valuable assistance. Prior to the luncheon was a groundbreaking for the housing community's first phase.
Elaine Thena, executive director of Pickens County Board of Disabilities and Special Needs, outlined the opportunities that will open to The Jericho Project's first residents to experience life in the Southern Wesleyan community. Echoing Thena's enthusiasm, Tyler Rex, executive director of the Anderson County Disabilities and Special Needs Board, urged his audience to continue supporting their efforts.
"I think the most important outcome will be that those walls that for much too long isolated people with disabilities from the rest of their communities will come tumbling down," said David Goodell, associate state director of operations for the South Carolina Department of Disabilities and Special Needs. "I believe that this seed of creativity and compassion is going to blossom and spread, not only to the rest of the state, but I think to the rest of the country."
The University Singers, directed by Rev. Gail Kerstetter, director of ministry and outreach, performed a few inspirational and patriotic selections.
For details about The Jericho Project, visit jerichoatswu.org. For details about government relations at Southern Wesleyan University, contact Dr. Lisa McWherter in the Advancement Office at (864) 644-5006.
Southern Wesleyan University is a Christ-centered, student-focused learning community devoted to transforming lives by challenging students to be dedicated scholars and servant-leaders who impact the world for Christ. For details about degree programs, go online to swu.edu.
Follow SWU:
https://www.facebook.com/southernwesleyan/
http://www.twitter.com/SWU_edu