"Transference of Writing," an Overview
Southern Wesleyan's Quality Enhancement Plan is our Writing Initiative. Through this project, we will improve student writing by being intentional about writing instruction and opportunity for undergraduate students across the curriculum.
We will use English 1003 as a foundational course to introduce concepts and skills connected to academic writing. Then, our faculty will teach and incorporate writing into designated courses in both our Core Curriculum and major curriculum.
These courses are arranged in two tiers: Tier One courses are courses housed in our General Education core and Tier Two are courses are housed in each major. Students will have to successfully complete two courses in Tier One and two in Tier Two to graduate.
As a condition for graduation, students will successfully complete at least four writing-focused courses. To measure improvements in students' writing, a writing rubric, or the integration of both writing instruction and assessments, is included in the content of each course identified as writing intensive.
---
QEP Frequently Asked Questions
What is a QEP?
The Quality Enhancement Plan (QEP) is an integral component of the reaffirmation of the accreditation process and is derived from an institution's ongoing comprehensive planning and evaluation processes. It reflects and affirms a commitment to enhance overall institutional quality and effectiveness by focusing on an issue the institution considers important to improving student learning outcomes and/or student success. In essence, the QEP is a long-term plan aimed at enhancing student learning. For more information about what a QEP is or further details about the Southern Association of Colleges and Schools Commission on Colleges (SACSCOC), visit the SACSCOC Commission on Colleges website at http://sacscoc.org.
What QEP topic did SWU choose?
Southern Wesleyan University, as a community (students, staff, and faculty), has selected to improve student writing as the institution's QEP project. By focusing on the topic of writing, the QEP provides an opportunity for SWU to improve the overall quality of education and effectiveness of its students' experience.
What are the Student Learning Outcomes for the QEP?
With the goal of improving writing, the University had to decide how to actually improve student writing. Therefore, the institution worked with three crucial questions for impacting student writing:
What specific skills within writing need to be improved?
How does the student carry forward what is learned in first-year writing?
How does the Institution create a coherent curriculum to foster the improvement of writing?
To answer the questions, the faculty created student learning outcomes to narrow the broad learning goal into specific learning outcomes that could be taught and ultimately measured. To improve student writing, the faculty chose the following specific student learning outcomes:
…to improve student writing…students will be able to…
Mechanics -- Produce writing that is free of serious grammatical and mechanical errors. (Lower Level)
Exploration and Argument -- Use writing to investigate complex, relevant topics and effectively support message and/or argument. (Medium Level)
Purposes and Audience -- Produce writing that reflects an awareness of context, purpose, and audience, with an emphasis on discipline-specific writing. (Higher Level)
How will writing be integrated into the curriculum?
In order to integrate writing interventions into the curriculum (integrating meaning the subject is taught to the student in order to foster learning), SWU will create writing intensive (WI) courses throughout the curriculum, both within the general education core and all majors. In addition to the English foundation courses, undergraduate students will be taught the skills related to the student learning outcomes at least four more points in their undergraduate careers beyond the current foundational writing courses:
Tier I (General Education)
1A: First General Education Course
1B: Second General Education Course
Tier II (Major)
2A: Class in major (lower-middle)
2B: Higher level class in major (culminating i.e., capstone)
The tiers are important in that they make clear that the University is making student writing a critical part of the learning process. The tiers allow for the transference of skills as students move through the educational process versus being taught a subject once and then performing the skill for the duration of their academic career.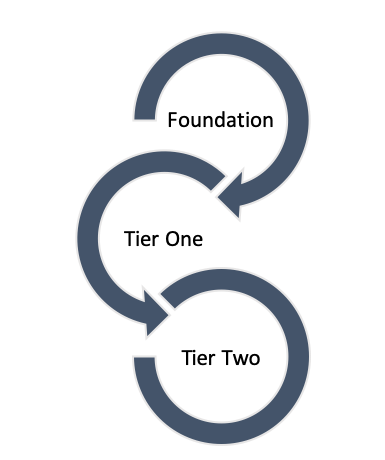 What are writing intensive courses?
Writing Intensive (WI) courses are courses that use writing as a means of instruction. While course material may be delivered in multiple modalities, writing and its process (drafting, editing, and revising) will be integral to students learning the course content. The writing intensive courses are not new courses; therefore, there are no additional credit hours attached to a student's curriculum path. The writing intensive (WI) courses, identified as such in the Undergraduate Bulletin and in each semester's schedule of courses, are existing courses that now have more writing attached to the content area.
What Student Population does the QEP cover?
Beginning with the 2020-2021 academic year, all incoming new and re-admitted Baccalaureate-seeking students will be required to participate in QEP assessments to graduate. Exemption from the Tier One requirement may be achieved through the transfer of equivalent courses; earned test credit through Advanced Placement (AP), DSST (DANTES Subject Standardized Tests), College-Level Examination Program (CLEP), or International Baccalaureate Programme (IB); earned equivalent military credit; or through a combination of these methods of transfer of credit for a minimum of 30 transfer credit hours of general education courses. Transfer credit may not be used for exemption from the Tier Two requirements.