The School of Education provides academic study and training to students seeking teaching careers in the field of public, private, or Christian education.
Based on its conceptual framework, the School of Education has adopted the theme statement, "Educators who demonstrate scholarship within a Christian ethic of care." Teacher candidates are guided in the acquisition of skills that are necessary to plan and implement instruction of content area subjects at the elementary and secondary school levels. Further, teacher candidates are instructed in specific aspects of assessment and classroom management that facilitate the improvement of student learning and teacher instruction. This is accomplished through interacting with experienced university faculty in the classroom and pre-clinical experiences in actual classrooms with mentor teachers. Finally, the School of Education seeks to instill in teacher candidates dispositions related to a "Christian ethic of care" towards self, learners, colleagues, and the community.
Accreditation
The teacher education programs at Southern Wesleyan University are fully accredited by the National Council for Accreditation of Teacher Education (NCATE).
Learn more about our accreditation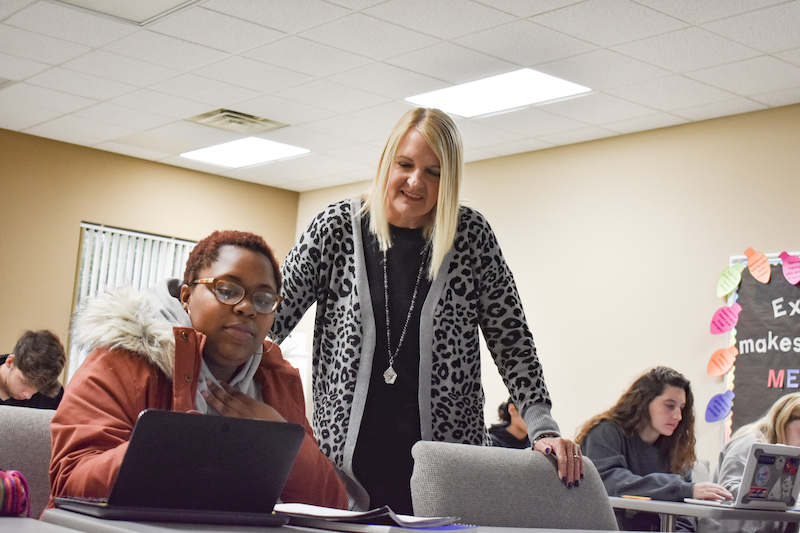 Education Degree Programs
on-Campus Programs
Online Undergraduate
Online Graduate Programs
Online Doctoral Program
Graduate Education Courses
SWU certainly prepared me for my job in many ways! Creating management models, unit lesson plans, and assessments have been invaluable through my first three years teaching!! I felt prepared from day one to conquer the standards set before me! I have built upon my foundation to become an even more effective teacher! When you have your own classroom you really get to know what works and what doesn't! I am so humbled by the fact that I am Teacher of the Year and can't wait to perfect my craft in the years to come!

Caroline Smith, Class of 2014
2016-17 Teacher of the Year, McKissick Elementary School
---
Continuing Education
Teacher Endorsements
Elective coursework obtained at Southern Wesleyan University can assist education professionals as they seek to enhance their professional training. These courses are offered fully online, can be taken as stand-alone courses, and could lead to an add-on endorsement for those professionals with a teaching certificate. Courses offered can lead to these add-on endorsements:
Teacher Leader
SC Read to Succeed Literacy
Early Childhood Special Education
Gifted and Talented
Learning Disabilities
---
MicroCredentials
Currently, SWU offers one microcredential program in Instructional Design. This for-credit program gives students key skills and tangible experience in the growing field of online learning, and culminates in a certificate and digital badge, as well as four courses that are directly transferrable into the M.Ed. in eLearning and Instructional Design.
Project Read
Southern Wesleyan University administers the state-funded Project Read grant. This grant's purpose is to provide language arts staff development to K-5 South Carolina public school teachers using the Language Circle Project Read curriculum. Tuition, books, and materials will be funded by the state grant at no cost to the participant.
---
SC CREATE
SC CREATE fully pays tuition and textbook costs for full-time South Carolina educators completing coursework required for add-on, alternative, or initial licensure in special education and advanced licensure in speech-language pathology.