2015 Grandparents Day at Southern Wesleyan University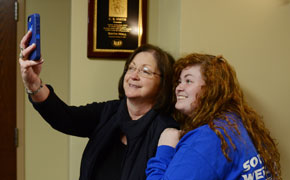 Rebekah Redmond, left, of Goose Creek takes a selfie with her granddaughter Rebekah Johnson during Grandparents Day. She is a sophomore majoring in biology.
Many students enjoyed getting together with grandparents and other family members while getting a taste of campus life, sharing meals with grandchildren, touring the historic campus and taking in a ballgame or "The Sound of Music," the university's spring musical. Grandparents Day was organized by the SWU Advancement Office.
Grandparents Day is held annually on the third Friday of March. For details this event and other opportunities for family and friends to connect with Southern Wesleyan University, contact Lisa McWherter at (864) 644-5013 or email .
Southern Wesleyan University is a Christ-centered, student-focused learning community devoted to transforming lives by challenging students to be dedicated scholars and servant-leaders who impact the world for Christ. For details about degree programs, go online to swu.edu.