Alumnus launches business dedicated to ensuring nothing gets 'lost in translation'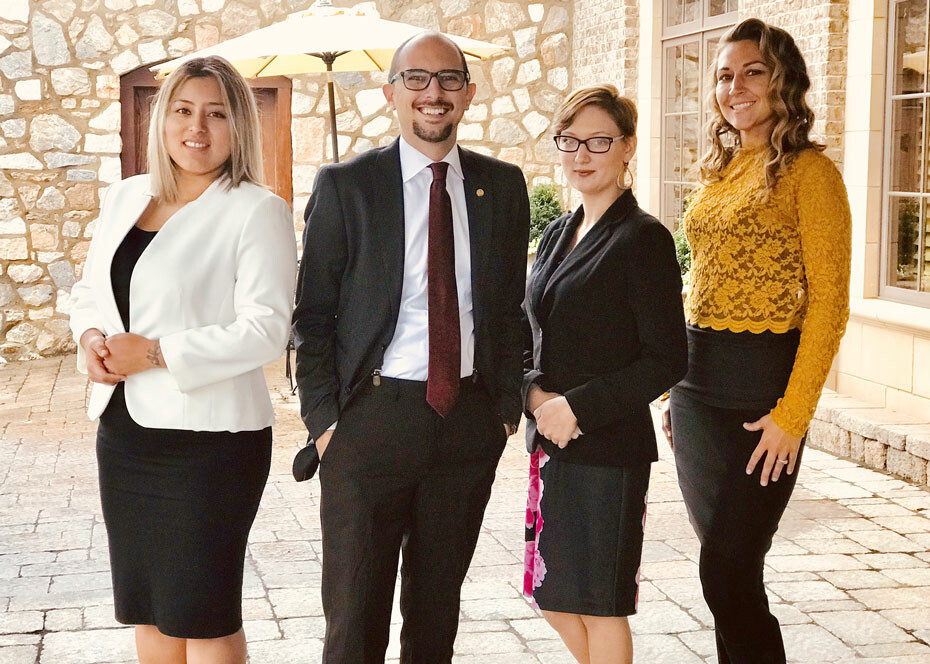 A Southern Wesleyan University business graduate is helping businesses and organizations bridge language barriers in South Carolina's increasingly diverse Upstate region.
Having spent 15 years in the diversity and language services industry, Jeremy Palomo recently started Alta Language, a company dedicated to providing language services to health care systems, businesses, courts and other venues.
While Spanish is the top market for their services, Alta Language also contracts with individuals skilled at translating and interpreting Russian, Mandarin Chinese and Portuguese.
Palomo's clients include St. Francis Hospital, United Way and a couple of pharmaceutical companies. His goal is to grow to six contracts in six months.
"Interpreters serve as a conduit of information; they clarify as needed. They are cultural brokers as well and serve as advocates for the limited English-speaking population and those they serve," Palomo said.
Palomo, who spent several years as an interpreter and translator within health care, began praying about establishing a language services business. At the same time, he sought counsel from business owners and executives as he assessed the feasibility of offering such a service.
"I have several mentors – vice presidents, CFOs, and a chief medical officer. I sought their advice. There was a high risk involved, but I would have regrets if I didn't do it," Palomo said.
Seeking potential donors and investors, Palomo met a local business owner who was willing to provide startup funding. He also provided a location, offering Palomo an office within his imported car repair business.
"I was working with three to four interpreters. I went to get a business license in Anderson and then decided to network. They said 'go to the economic development office.' I was a day away from submitting a grant application when they said, 'Jeremy, your business and story is a candidate for us to give you a grant to fund your business. First we have to see where your office is,'" Palomo said. "It was literally on the city limits, and they said the grant deadline was 24 hours away. I told the mechanic we need a city contractor to give me a quote. Right in front of the office was a car parked that belonged to a city contractor. Within 24 hours we had a quote and submitted the grant to the city. We recently found out we were approved."
Coming stateside – finding his calling
In Puerto Rico, Palomo grew up bilingual. He would speak Spanish to his father, a former Costa Rican consul in Puerto Rico; and would speak English to his mother, the daughter of missionaries to Costa Rica.
"I don't have a mother language in English or Spanish – it's more like Spanglish," Palomo quipped.
When Palomo moved from Puerto Rico to South Carolina just over 15 years ago, his language skills quickly opened doors. At first he was waiting on tables at an Anderson restaurant, then was able to get a job at a mental health association, working hours better suited to his class schedule. A coworker and friend introduced him to interpreting as a career path, saying that Greenville Health System was hiring.
"I started working third shift maternity. I would go to school in the morning," said Palomo, adding that he also saw interpreting not only as a good source of income but also as a ministry.
"All of a sudden I'm in ER and I'm interpreting and it's paying," Palomo said. "Those two years is where my connection of purpose and passion happened. In two or three years I became a coordinator and then got promoted to supervisor within about a year. I coordinated a job in a supervisor role at Greenville Health System from 8 to 70 interpreters; it exploded. At that same time I went from bachelor's work to master's."
Coming to SWU
Before coming to the U.S., Palomo had begun his studies at Sacred Heart University in San Juan. He became familiar with Southern Wesleyan through teachers in Puerto Rico who were graduates, and he then made a visit to the campus in 1998. Palomo loved the SWU environment. He recalled how he received a shoulder injury when he was seeking God's will for his future. He explained, "It was evident that God wanted SWU to be that choice. I told God 'I love being in Puerto Rico, but if you want me to go to SWU… 'I raised my hand and the pain went away."
As he looks back on ways his bachelor's and master's degrees from Southern Wesleyan benefit him professionally, Palomo points to lessons learned in medical terminology class, which was key to being able to translate and interpret when he worked in health care. Other classes prepared Palomo with skills in accounting, strategy and business analysis. He participated in SIFE (Students in Free Enterprise), representing SWU in business competitions that took place in Charlotte.
When he's not involved in his business, Palomo is leading worship at the new Pleasant View Campus of ALIVE Wesleyan Church, located in Anderson. He is excited about his new role, after serving ALIVE Wesleyan for 15 years at Central. Palomo also continues to make regular trips back to Puerto Rico, often with mission teams, offering assistance to residents devastated by hurricanes Irma and Maria. He has traveled several times to India and Nepal on a mission trip with several other Southern Wesleyan alumni, building relationships with Christians who have undergone persecution.
"God is providing and all the glory belongs to Him," he says.
For details on degrees offered by the Benson School of Business at Southern Wesleyan University, visit www.swu.edu/business.
Southern Wesleyan University is a Christ-centered, student-focused learning community devoted to transforming lives by challenging students to be dedicated scholars and servant-leaders who impact the world for Christ. For details about degree programs, go online to swu.edu.
Follow SWU:
https://www.facebook.com/southernwesleyan/
http://www.twitter.com/SWU_edu
http://pinterest.com/swuedu/
http://instagram.com/swu_edu