Amidst uncertainty, SWU graduate sees God at work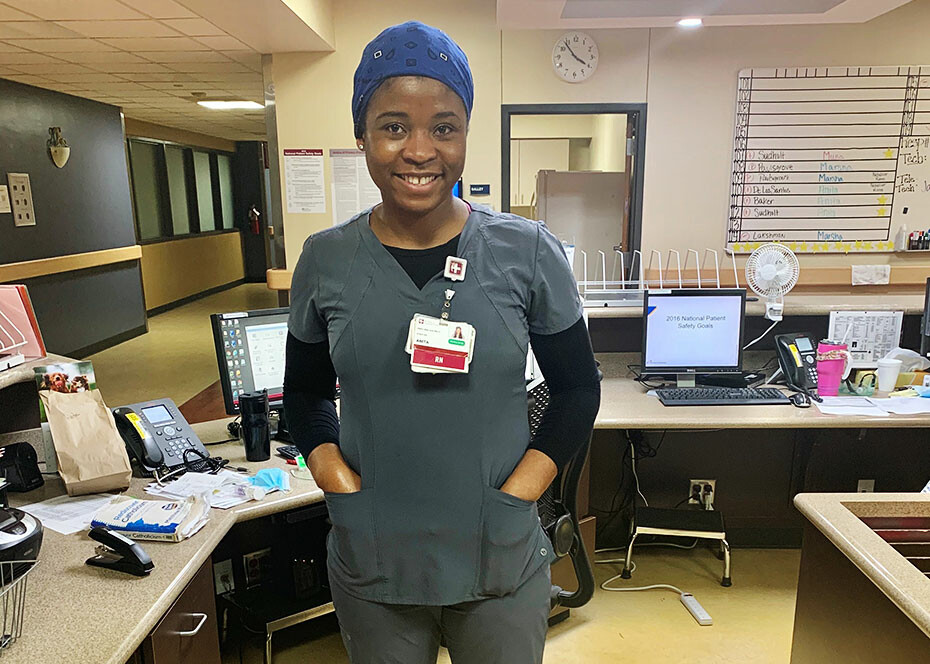 Anita Nwankwo knew for a long time she wanted to enter a caring profession. The daughter of a nurse, she looked to her mother as a role model, observing how she treated many people in the Nigerian community where she grew up.
Nwankwo, a 2017 Southern Wesleyan University Biology graduate, works at St. Mary's Medical Center in Blue Springs, Mo. She normally works in the medical surgical unit or the telemetry unit, and lately sometimes she's in the COVID unit.
"This was not something that I thought I'd get to experience in health care. It has been 'you go to work, you take care of people, then come home," said Nwankwo. "Then this virus happened and it changed my whole perspective. It opened my eyes to what serving is all about, what devotion to patients is all about. No visitors are allowed to come into the hospital, so some of those patients are desperate, scared and don't have family members; and they don't know that they can make it through their hospital stay. So, just being able to be with them and just hold their hands and talk with them, and just being selfless in that moment and just being company to them – it is really rewarding."
It saddens Nwankwo when patients who don't pull through have no family members present– mostly they are elderly with underlying health issues. For her the biggest challenge is not knowing what to expect.
"There are shortages of PPE's (personal protective equipment) and also you may not know what patient you're getting and the clinical condition of that person, so it's very challenging to just go in and see them going through so much that you feel like you're not doing enough. Sometimes you do all you're able to but it's not enough to get them where they are supposed to be," said Nwankwo.
But she looks to God for strength and hope and sees Him at work in these times of crisis.
"God is uniting us in ways we couldn't imagine before, because right now I feel that every human is connected to one another. Every human is looking out for one another. Every human wants what's best for each other. You go out in public to shop and you see everybody respecting the distances. If you see the elderly, you're trying to stay away from them. I feel like God is using it to unite human beings in ways that we could not imagine are possible," said Nwankwo.
Coming to SWU
Anita's father, Innocent Nwankwo, attended Southern Wesleyan and played on the men's soccer team. He graduated and returned to Nigeria, where he was successful in many business roles. Anita learned a lot about Southern Wesleyan listening to her father talk about college life and playing under coach Keith Connor.
From the time she enrolled at Southern Wesleyan in 2015, she recalls how professors, including Drs. Walt Sinnamon and Staci Johnson, were happy to provide her with the assistance and encouragement she needed.
"They laid a positive foundation that pushed me through pre nursing school. You would walk into their office and they would talk you through things you didn't understand. They were amazing. I also loved that they keep in touch. Dr. Sinnamon reaches out and keeps in touch to see how I'm doing," said Nwankwo. During a Homecoming celebration, Nwankwo also was befriended by alumna Sandra Ellison Morgan. Morgan, who remembered her father when both were students in the 1970s, opened her home to Nwankwo.
"I call her my American mom because she and her husband adopted me with open arms. They welcomed me into their family. They saw me for the first time and just felt drawn to me and I was drawn to them as well," said Nwankwo, adding that when she finished her nursing program at MidAmerica Nazarene University, they traveled in 2018 to Olathe, Kan., for her pinning ceremony. There she was also congratulated by MidAmerica's president (and former SWU president), Dr. David Spittal.
How to pray
Nwankwo encourages all Christians to pray for the people on the frontlines, no matter what their job is – doctors and nurses, but also those working in grocery stores and driving trucks.
"Pray for people who are exposing themselves the most, and that God will continue to give us the grace to keep pushing through it, because sometimes it can get overwhelming," Nwankwo said.
For details about the Division of Science and degrees offered, contact Southern Wesleyan University at 877-644-5556 or visit www.swu.edu.
Southern Wesleyan University is a Christ-centered, student-focused learning community devoted to transforming lives by challenging students to be dedicated scholars and servant-leaders who impact the world for Christ. For details about degree programs, go online to swu.edu.
Follow SWU:
https://www.facebook.com/southernwesleyan/
http://www.twitter.com/SWU_edu
http://pinterest.com/swuedu/
http://instagram.com/swu_edu