Area 14 Special Olympics returns to SWU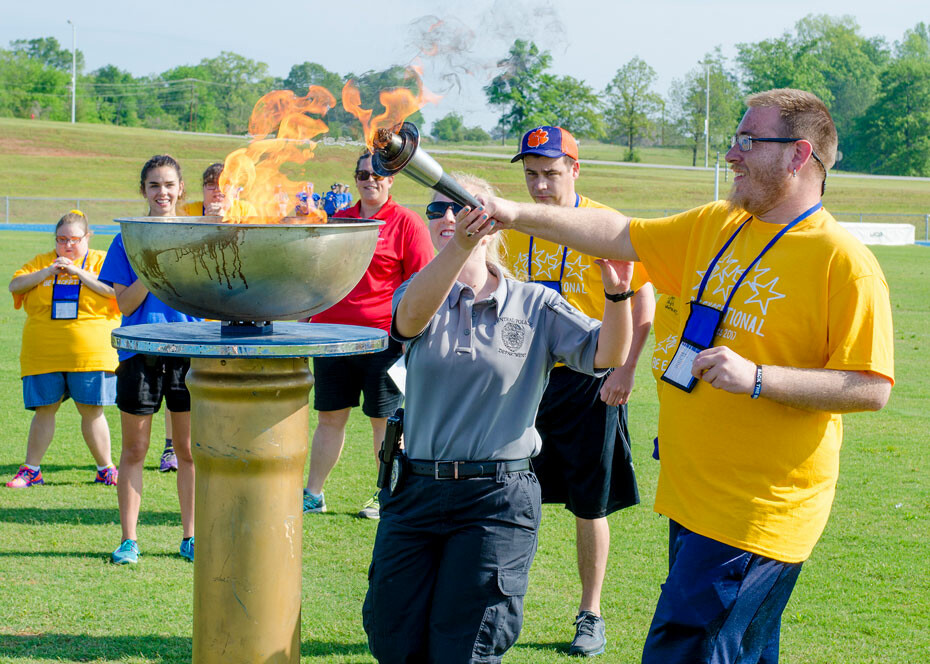 Southern Wesleyan University welcomed hundreds of athletes for a day to celebrate "special abilities" as Area 14 (Anderson County) Special Olympics returned April 20 to Joe R. Gilbert Track and Field on the Central campus.
"This is a day of fun and competition for athletes to come out and enjoy being around other athletes from all over Anderson County," said Kathy Schofield, volunteer area director of the Area 14 Special Olympics. Schofield noted that more than 490 participants were registered and added that Anderson County offers a variety of sports training and competition throughout the year for children and adults with intellectual disabilities. Also, athletes get an opportunity to compete at the state level.
This is the second time Southern Wesleyan hosted the games at Central as part of a continuing relationship the university hopes will demonstrate a contagious generosity toward all members of its surrounding community.
Highlights included an opening ceremony involving the athletes, hundreds of volunteers from Southern Wesleyan University and Anderson School Districts 1 – 4, athletes' family and friends and community members.
Also during the ceremony, Special Olympics athlete Mitzi Mize led in the Athlete Oath: "Let me win, but if I cannot win, let me be brave in the attempt." Special Olympics athlete Kathleen Stoller sang The National Anthem.
Southern Wesleyan University President Todd Voss declared the games open.
"This campus is your campus. We're looking forward to a long-term relationship. Come back every year and let's make this bigger and bigger," Voss said.
For the athletes, ranging from young children to adults, this was "their day," as they enjoyed races, softball tosses, long jumps and many other activities while being cheered on by family, friends and volunteers.
Area first responders, including local law enforcement, emergency services personnel and firefighters, were also on hand as volunteers, as well as to greet the athletes and cheer them on. Also on hand were representatives of various Anderson area community organizations.
The volunteers got as much joy out of the activities as the athletes they accompanied, and experienced a type of inventive learning beyond the scope of a textbook. Madelyn Crawford, a human services major from Six Mile, started volunteering with Special Olympics as a high school student, and served as a volunteer for Area 14 Special Olympics.
"It's really something amazing just to see them smile and have a good time. It makes my heart really full," Crawford said.
Festivities also included face-painting, SWU gear, and food vendors with barbecue sandwiches, hot dogs, soft drinks and snacks.
Hosting Area 14 Special Olympics comes at a time when Southern Wesleyan is collaborating with disabilities and special needs boards in Anderson and Pickens counties as well as at the state level to seek ways to serve the special needs population and to provide meaningful experiences for students majoring in special education or other students interested in working with those with disabilities and special needs.
The Jericho Project, a special needs housing community, broke ground Feb. 27 at Southern Wesleyan's campus. Southern Wesleyan also began hosting a "Unite the Community" softball invitational this past September at Varsity Field, involving teams from disabilities and special needs boards of Anderson and Pickens counties, community volunteers and area first responders.
Sponsors include but are not limited to: Southern Wesleyan University, Alive Wesleyan Church, Bowers Emergency Services, Brookdale Senior Living Solutions, Clemson Area Transit (CATbus), Central Fire Department, Central Police Department, Diamond T Promotional Gear, EZ Cash, First Quality, Founders Federal Credit Union, Little John Portable Toilets, Palmetto Physical Medicine, Pickens County Emergency Management and Visit Clemson.
For details about Area 14 Special Olympics or to become a volunteer, contact Kathy Schofield at (864) 260-4142 or email or online www.so-sc.org/area14.
Special Olympics South Carolina provides year-round athletic training and competition for 25,588 children and adults with intellectual disabilities and offers 28 Olympic-style sports and hosts more than 400 competitions each year.
Southern Wesleyan University is a Christ-centered, student-focused learning community devoted to transforming lives by challenging students to be dedicated scholars and servant-leaders who impact the world for Christ. For details about degree programs, go online to swu.edu.
Follow SWU:
http://www.facebook.com/southernwesleyanuniversity.central
http://www.twitter.com/SWU_edu