At 105, Carter presented with Lifetime Achievement Award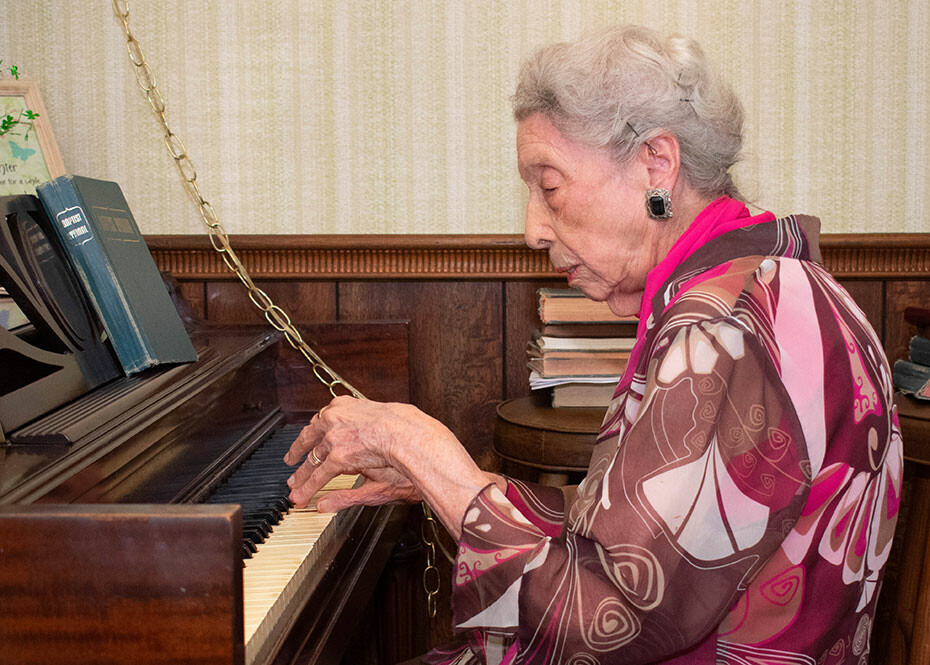 Her driver's license was renewed at the age of 100. That's right, Bernice Carter had no problem driving until just a couple years ago. On Oct. 1, she turned 105 but that hasn't slowed her down. She continues to cook, play the piano and host members from several churches once a month in her home.
On Oct.16, Southern Wesleyan University honored Carter with the Lifetime Achievement Award. University Director of Communications Edward Welch and Executive Director of Alumni and Constituent Relations the Rev. Joy Bryant drove to her home in Hemingway to present the award. A video was made of the presentation and will air during the university's Oct. 27 Homecoming Brunch.
Carter has stayed active all her 105 years. She can remember playing guard at Union High School in the 1930s and beating Hemingway for the District Championship.
Carter is a member of the Alumni Association. She and her late husband, Clifford Carter, were adult students who attended the university (then known as Wesleyan Methodist College) in the 1950s. Clifford became a Methodist minister in 1947 and served in churches "from the mountains to the sea," she said. The two were married just short of 70 years when Clifford passed away.
Bernice Carter may be 105, but she hasn't slowed down. The young-at-heart centurion cooks, plays the piano, and entertains a group of seniors from various churches.
Carter starts her day with a hearty breakfast. "I get up and make grits and everything that goes with it," said the centurion. "After that I watch a little TV and play a little bit of piano. I fool around here until someone comes and gets me and we take off." One of her favorite hymns is Amazing Grace, which she plays by memory.
Carter continues to be active in her community. She attends Good Hope United Methodist Church every Sunday. She attended Vital Aging and currently attends the First Baptist Senior Adult Center.
Article and photos by Michaele Duke of The News, Kingstree, S.C.