Bailey receives Angleton Fellowship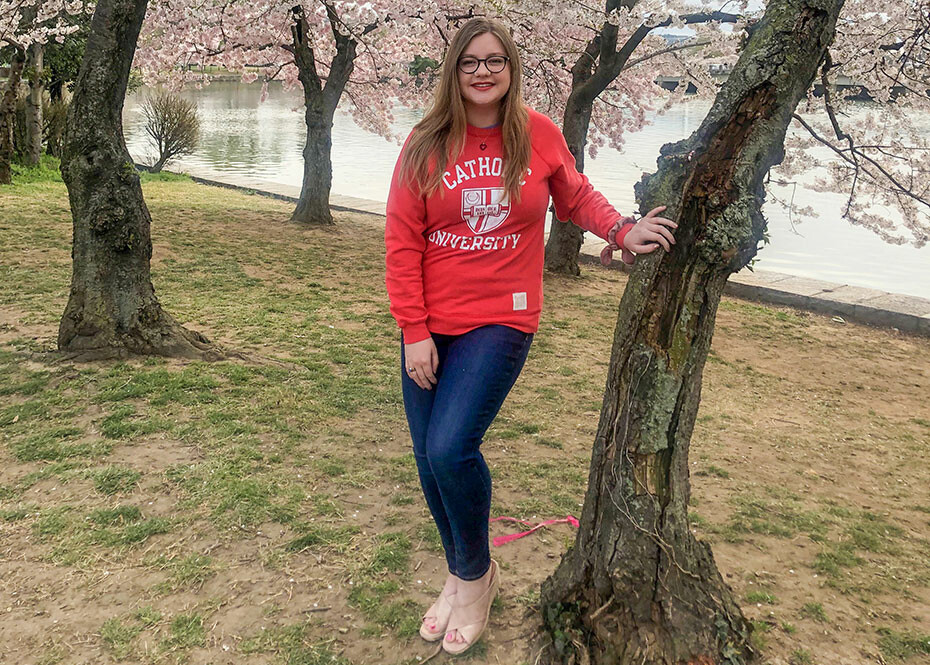 A longtime interest in history compels a recent Southern Wesleyan University graduate to do research, not just on history itself, but also on how people experience it.
Mikkaela Bailey, who graduated from Southern Wesleyan in 2017 with a degree in history, then entered graduate school at nearby Clemson University, is now headed to Washington, D.C. and The Catholic University of America, where she was offered the Angleton Fellowship for a Ph.D. in history.
Bailey hopes to increase accessibility to information through digital history, an area that was part of her graduate studies at Clemson.
"At The Catholic University of America, I will be working on legal, religious and social history involving women's wills in medieval England. Their program will also allow me to work on digital methods for history, which excites me because it is a way to create dynamic projects in history rather than only monographs (books). By creating interactive experiences, I hope to give people engagement with history rather than just lessons," Bailey said.
"I believe history can be more than just words on a page. There are many ways to experience history, and this is just one way it can be shared," writes Bailey on her website.
Bailey credits Southern Wesleyan, its faculty and staff for equipping her with experiences that continue to reap benefits as she continues her studies.
"The support staff at SWU are excellent, from the librarians who invested in teaching me research skills to Ellen Pate in Career Services working tirelessly to ensure my grad school application materials were just right. When it was time for me to go through the process again, I really leaned on my former experiences," Bailey said.
Bailey chose to attend Southern Wesleyan on her father's recommendation. There she learned about scholarships such as Palmetto Fellows and SWU Fellows matching. She also received an undergraduate research grant through South Carolina Independent Colleges and Universities (SCICU), which funded a trip to England to research her honors project, exploring the influence of the Magna Carta on the English national identity from the 13th Century through the 18th Century.
She credits Humanities Division Chair Dr. Ken Myers for preparing her to pursue her interest in history through further studies, something not originally on her radar. While working on her honors project, she decided to continue her education.
"Several faculty and staff have stayed in touch and continued to invest in my life, even after graduation," Bailey said.
"Studying abroad gave me a great perspective on how different life could be because it brought me a new point of view. I could think on a larger scale because I was able to see how those faraway places could become attainable. The most fun I've had on study abroad was probably building close friendships with my fellow travelers that have lasted long after our trip," said Bailey, noting that she also traveled with Myers and Southern Wesleyan classmates to Italy and Greece.
As she takes her training to the next level, Bailey feels that her experience at Southern Wesleyan equipped her through inventive learning opportunities and prepared her to confidently pursue her goals.
"I learned so many wonderful skills at SWU as far as professional development/interview skills, job experience, and effective professional communication for application materials as well as inquiring for more information," Bailey said. "I certainly could not have imagined I would someday be preparing for a Ph.D. program when I stepped on campus for freshman orientation."
Bailey wants to become a professor of history, possibly working with a campus ministry like Faculty Commons, part of Cru (formerly Campus Crusade for Christ).
"There is a great need for hope in academia and I would like to share the hope I have found in Jesus Christ. The things I learned at SWU inspired me to take on this career and empowered me to know I can trust in Jesus," Bailey said.
Bailey's research work can be seen on her website: https://mikkaelabailey.wordpress.com/
Southern Wesleyan University is a Christ-centered, student-focused learning community devoted to transforming lives by challenging students to be dedicated scholars and servant-leaders who impact the world for Christ. For details about degree programs, go online to swu.edu.
Follow SWU:
https://www.facebook.com/southernwesleyan/
http://www.twitter.com/SWU_edu
http://pinterest.com/swuedu/
http://instagram.com/swu_edu