Basketball 'globe trotters' take message across world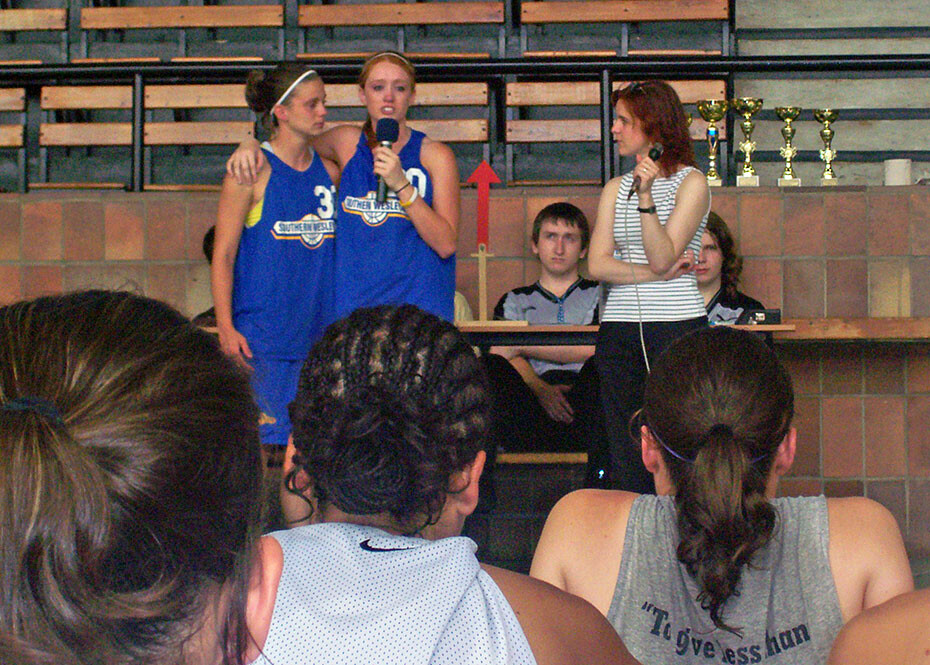 Using the language of basketball, U.S. missionaries spoke fluently to athletes in Czech Republic.
Women's basketball team members from Southern Wesleyan University, Bethany Bible College, Houghton College and Indiana Wesleyan University recently ministered to more than 600 people during a 10-day stay in Brno, Czech Republic.
"We used the universal appeal of sports and music to build relationships where we could share God's love with the Czech people," said Southern Wesleyan University Women's Head Basketball Coach Chris Williams. "The ladies did a great job representing God, their families and Southern Wesleyan University."
"Our 10 players were among 85 athletes, coaches, musicians and support personnel from the four Wesleyan schools," he said.
The Southern Wesleyan University team competed in basketball games, conducted clinics, visited schools, interacted with children on the playgrounds and supported the Czech church and missionaries. The athletic activities during the day set the stage for special large event programs in the evenings that included concerts and special speakers.
The SWU team played three games and finished the week 2-1. They opened versus KP Brno which is a professional team in the premier division in Czech.
"Let's just say we did not win, but we did win as we were able to share about God with these young women during dinner," Williams said. "We turned it around during the second game winning by 40 points. In the final game, we pulled out a victory by 4 points over a seasoned university squad.
"At each contest we would introduce ourselves, play the game, share a testimony and then take the opposing team out to dinner. These times proved to be amazing. The ladies poured their souls into each day," he said.
Southern Wesleyan University team members included Williams, Natalie Wilkinson, Sara Vollmer, Stephanie Ott, Katie Sullivan, Tammy White, Melinda Hegeman, Beverly Jeter, Savannah Parnell, Renee Raker and Jessica Delcastillo.
The city of Brno is about three hours southeast of Prague with about a 500,000 residents.
Williams said the old-world feel of the city and the architecture of the area impressed him.
"Most of the buildings there are older than our country," he said.
The people of the Czech Republic are reserved, respectful of their elders and formal, Williams said. They were nice and helpful, but quieter than the American students expected, he said.
"When they're on the bus or the tram, they look straight ahead and don't talk," Williams said of the Czech residents. The Southern Wesleyan University students made sure to be quiet and respectful, too, in an effort to blend in and respect the Czech culture.
The food in the Czech Republic was tasty, with breakfast being a bowl of liver pate, fresh bread and cheese, he said.
"We tried to eat typical Czech food," Williams said. "They eat a good bit of meat, potatoes and chicken."
The common bond of sports puts people on equal ground and gives them a way to reach one another, he said.
"We're able to meet people and bond with them through sports," and then share our faith and our relationship with Jesus, Williams said.
Southern Wesleyan University 's girls' basketball team also developed closer bonds than ever before, he said.
"I was proud to know that we were a tight group, even when we were tired," Williams said. "One student's luggage never made it, but she never complained. The other girls just shared their things with her." All the students shared one electrical adaptor and one hair straightener. They did not have an iron for their clothes, but the focus was on connecting with people, rather than on their own appearance, Williams said.
"It wasn't about how we looked. It wasn't about us," he said. The students focused their attention on reaching out to others and forming new friendships.
"Our girls tried to speak Czech," Williams said. "The other players would speak in broken English.
"God gave us the vehicle to communicate when we needed it. We didn't always need a translator."
The goals for the outreach included evangelism, leadership development, promotion of ministries in the Czech Republic, church partnerships and being a "low maintenance group."
"I would say it was a success," Williams said. Two years of planning, praying and fund-raising were involved with the trip.
"My goal was to see us grow individually and as a unit – in a spiritual context," Williams said.
"It was unbelievable to see God move amongst our team."
"I'm thankful that we were able to do it."
The trip was also a personal spiritual journey, Williams said.
"It reassured me that I'm doing the right things. It refocused me. It reminded me that I need to take time out. We make life complicated. Life isn't really that complicated," Williams said. "God has me at Southern Wesleyan University for a reason. It's not to win and lose basketball games, but to help these kids develop a deeper relationship with God."