Bench Dedication at Southern Wesleyan University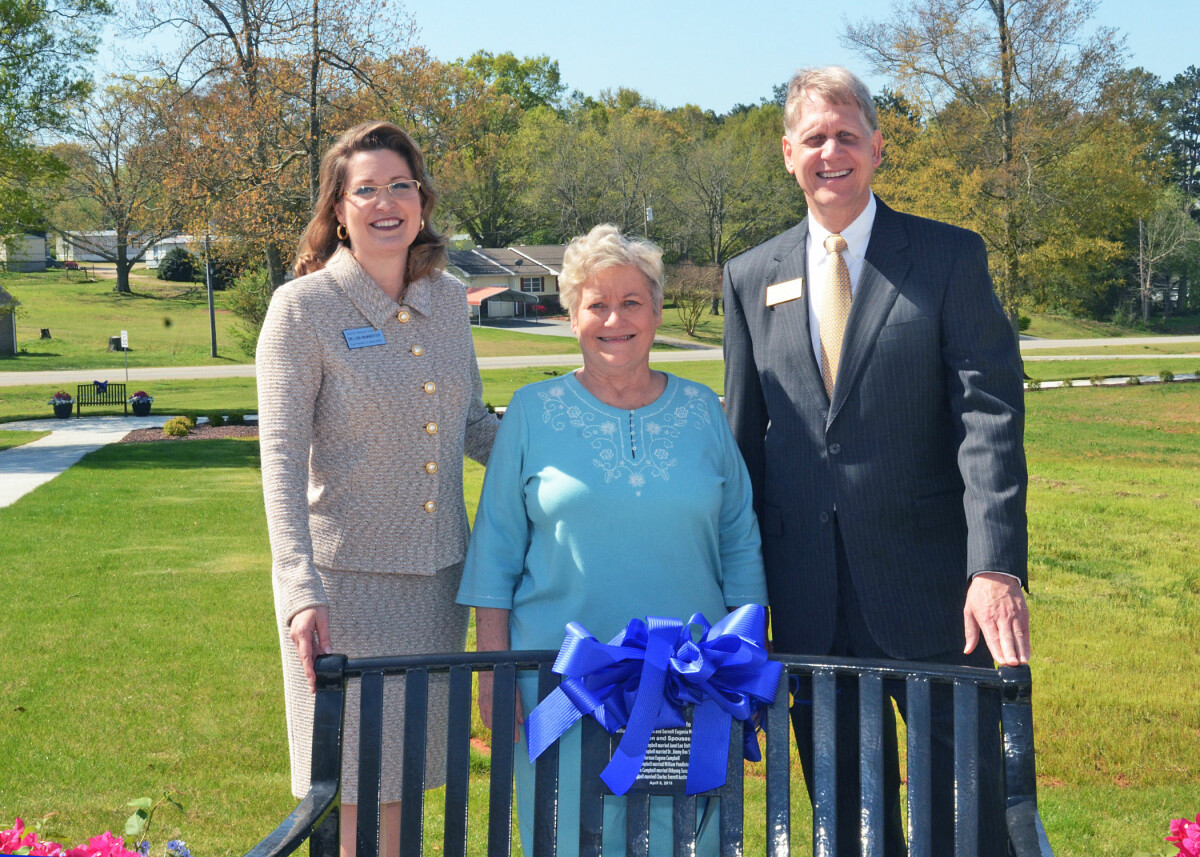 Benches at the Sheriff National Guard Memorial Flag Plaza on Southern Wesleyan University's Central campus were dedicated April 8 in memory and in honor of members of the Collins, Sheriff and families.
Attending the ceremony were representatives of Southern Wesleyan's student body, faculty, staff, administration, the board of trustees and several individuals from the surrounding community.
"Today we are here to celebrate the patriotism, commitment to family, and generosity of these two lovely ladies – Anne Sheriff and Pat Collins," said Lisa McWherter, Southern Wesleyan's vice president for advancement in her ceremony welcome to all guests present.
University President Todd Voss praised members of the Sheriff and Collins families for their partnership with Southern Wesleyan over the years and their generosity and said, "It's one thing to stand here and marvel at the flags waving and what it means; it's another thing to rest and relax; it's another thing to spend time and reflect. You can't do that unless you have benches, and so our friends who are providing these benches for this plaza."
Voss continued, "It's a very meaningful event for us, because it demonstrates to us that this again is much more than a flag plaza – this is a prayer plaza, a place where the lives that have already been changed will continue to be changed for years and for decades."
Marine Cpl. Chris Peck, also a Southern Wesleyan student, gave the roll call of honored names inscribed on the benches, and Rev. Ken Dill, university chaplain, led in a litany of dedication. Darl Fowler, a member of Southern Wesleyan's board of trustees and an alumnus, led in a prayer of dedication and benediction, followed by the Lord's Prayer, spoken by those in attendance.
Sheriff cut the ribbon dedicating a bench on which a plaque is inscribed "In memory and in honor to William Homer Campbell and Garnett Eugenia McReynolds; Children and spouses, William Allen Campbell married Janet Lee Stottsberry; Gwenn Anne Campbell married Dr. Jimmy Don Sheriff; Norman Eugene Campbell, Della Gail Campbell married William Pendleton Jones; John Leon Campbell married Okkyung Susan Kim; Judith May Campbell married Charles Everett Austin; and Jim Wells."
Collins cut the ribbon dedicating a bench on which a plaque is inscribed "In memory and honor CW5 C. Roy Collins and Patricia S. Collins, Dr. Joseph M. and Sheryl Collins McElwee, Col. Marshall C. and Janie H. Collins, LTC Marion R. and Gail W. Collins."
A bench along the walkway to the plaza was dedicated by Sheriff with a plaque reading "In honor and respect to Bonnie Chapman Bowen and her sons Bobby, Barry, and Brian; Steve Hughes and his sons Steven and Fred; and Alice Shove. Dr. Jimmy Don Sheriff and Gwen Anne Campbell Sheriff."
Anyone interested in other naming opportunities, honoring or memorializing loved ones at Southern Wesleyan University should contact Lisa McWherter at (864) 644-5008 or at in the Advancement Office.
Southern Wesleyan University is a Christ-centered, student-focused learning community devoted to transforming lives by challenging students to be dedicated scholars and servant-leaders who impact the world for Christ. For details about degree programs, go online to swu.edu.