Black Alumni Network Leaders Visit Campus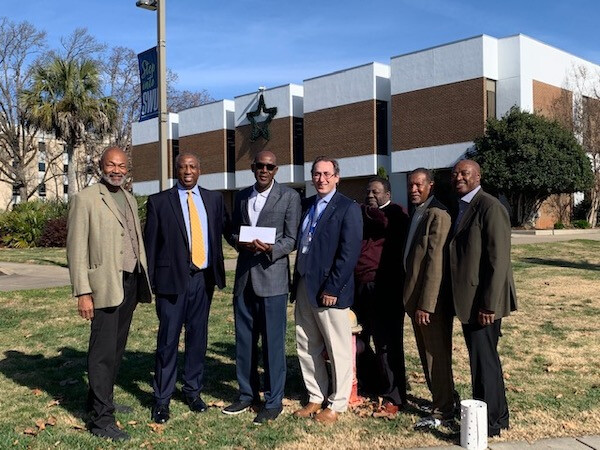 L to R: Al Holland, Dr. Ray Lattiore, Charles Wimphrie, Scott Drury, Al Williams, Roger Williams, Matt Young. Roscoe Campbell was unable to attend.
On December 2nd, several of the founders of the Black Alumni Network visited campus to join Dr. Ray Lattimore in honoring Charles Wimphrie by completing the funding goal for the Charles Wimphrie Endowed Scholarship. The presentation was made at SWU's Alumni Walk to Wimphrie and Vice President of Advancement Scott Drury. The check presentation completes the $25,000 goal for the scholarship that celebrated Charles' 31 years of service to Southern Wesleyan University, and made the first student award for the current 2021-2022 academic year possible.
Heath Mullikin, Director of Alumni Relations at SWU, says, "It has been a pleasure to get to know the founders of the Black Alumni Network and see the love and appreciation they have for Southern Wesleyan. I am excited to see what God has in store for the future as we work together to reconnect with older alumni and invest in current students."
The Black Alumni Network was started to help alumni reconnect with the University, mentor current students, create a stronger network between alumni, and give back to SWU. During their visit they received a campus tour, met with Interim SWU President, Dr. Crothers, had lunch with students, connected with one of Dr. Lewis Knight's Media Communications classes, and met with other coaches and staff. The Black Alumni Network (BAN) is part of the Alumni Association and has worked closely with the Alumni office as they seek to make a difference in the SWU community. If you wish to join BAN, send an email to or go to https://www.cognitoforms.com/AlphonsoWilliams1/SWUBlackAlumniNetworkInfoSheet and complete the form.
Southern Wesleyan University is a Christ-centered, student-focused, faith-filled community that offers inventive learning experiences. The university endeavors to prepare its students to be dedicated scholars and servant-leaders who impact the world for Christ. For details about degree programs, go online to swu.edu.
Follow SWU:
https://www.facebook.com/southernwesleyan/
https://www.twitter.com/SWU_edu
https://www.linkedin.com/school/southern-wesleyan-university/
https://instagram.com/swu_edu