Byrd is Recipient of Professional Excellence Award - School of Education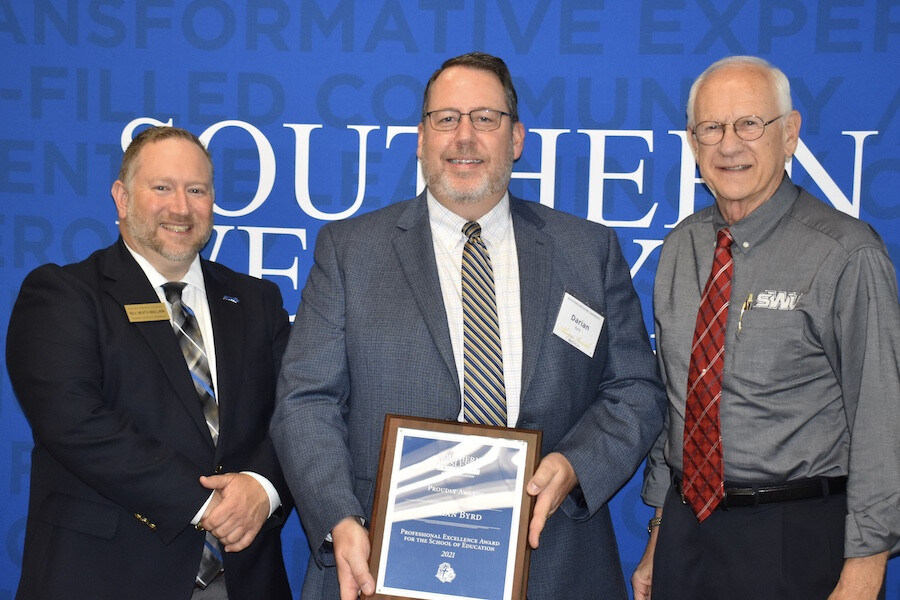 CENTRAL, S.C. – At this year's Warrior Homecoming, Saturday October 9, 2021, the Southern Wesleyan University Alumni Association presented their annual awards during a special brunch that started a day full of activities. Pickens County School District Leader, Darian Byrd ('99), was chosen as the recipient of the Professional Excellence Award for the School of Education for his role as the Director of Communications and the Pickens County Virtual Academy.
From March 2020 to August 2020, under Dr. Danny Merck, SDPC, Darian served as a Superintendent Intern. In the middle of working on a doctorate at Clemson University, Darian was asked to serve in communication during the COVID crisis by developing communications for staff, parents, and community during the transition to Remote Learning. Taking the vision of the Superintendent, Darian helped create a necessary shift of responsibilities in areas to serve students. He became the "driver" of the master SDPC Reopening Plan by developing the communication format for many of the final documents used to guide the successful reopening of schools in Pickens County due to COVID.
In January 2021, our awardee became Director of Communications and Pickens County Virtual Academy for the School District of Pickens County. Dr. Danny Merck, Superintendent, SDPC, shared, "Darian is a very important member of our senior leadership team. He is the face and voice of the district as the Director of Communications. Darian is an excellent communicator with a sense of calmness and positive direction. Darian also serves as the Director of the Pickens County Virtual Academy. His leadership as a principal and tremendous technology skills allow him to serve in this dual capacity. We are lucky to have Darian's skill set in these roles, but his character and integrity is what really makes him special!!"
The awardees were introduced by Alumni Board president, Janene Bryson, and greeted by Alumni Director Heath Mullikin and Interim President Dr. Bill Crothers. Following the brunch, the award winners served as the grand marshals for the annual Homecoming Parade.
Southern Wesleyan University is a Christ-centered, student-focused, faith-filled community that offers inventive learning experiences. The university endeavors to prepare its students to be dedicated scholars and servant-leaders who impact the world for Christ. For details about degree programs, go online to swu.edu.
Follow SWU:
https://www.facebook.com/southernwesleyan/
https://www.twitter.com/SWU_edu
https://www.linkedin.com/school/southern-wesleyan-university/
https://instagram.com/swu_edu