Car donation benefits SWU Call Me MISTER program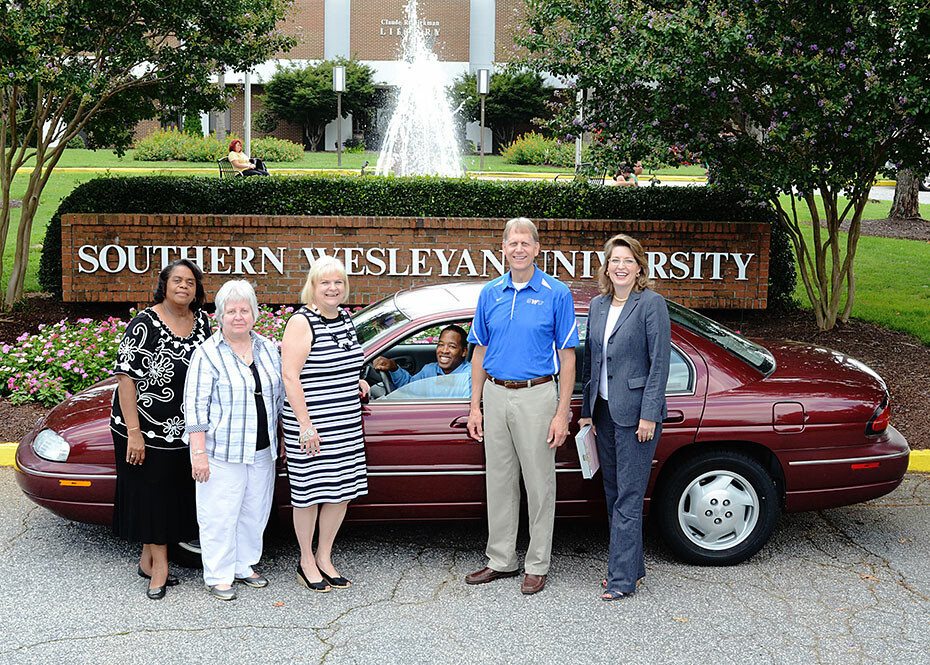 Car trouble for some is a minor setback, especially in a society where most families have access to two or more cars. For others lacking reliable transportation, car trouble can be a major disruption.
Two years ago, Kim Welborn, associate professor of English at Southern Wesleyan University, had a student from the Call Me MISTER program in a class with car trouble and unable to get to class. Looking back on this incident, Welborn approached her mother about donating her car – a 1996 Chevrolet Lumina she kept in good operating condition – to this worthy cause.
"Mother was very excited that these young men would have the opportunity to be able to get back and forth to their assignments, their student teaching assignments and placements," Welborn said.
Call Me MISTER (Mentors Instructing Students Toward Effective Role Models) at Southern Wesleyan prepares teachers for work at schools in impoverished areas and relies on a combination of public and private support.
Justin Carter, associate vice president for student life at Southern Wesleyan and an academic coach for Call Me MISTER, says some enrolled in the program don't have transportation.
"As we continue to grow the program, we will have MISTERs who are going out to the school systems," Carter said. "It will be nice that transportation will not be a hindrance to them being able to fulfill their classroom activities."
According to Mona Thornton, associate dean of Southern Wesleyan's School of Education, specifics still need to be worked out on how the car will be used. The car will likely be used in various MISTER activities, including tutoring, attending conferences, attending summit meetings at various parts of the state and student travel to public schools to work with K-12 students.
"The Southern Wesleyan University MISTER program is very appreciative of the generous gift from Mrs. Gladys," said Sandra McLendon, dean of Southern Wesleyan's School of Education. "The MISTER program has been at Southern Wesleyan University for three years and has been an asset to the School of Education and the university."
Call Me MISTER selects college students from among underserved, socioeconomically disadvantaged and educationally at-risk communities who have high academic potential, a demonstrated commitment to teach and a potential to be servant-leaders.
Contact Lisa McWherter, vice president for advancement, for details about the many donation options that are available to assist the MISTER program. She can be reached by calling (864) 644-5013 or by emailing .
For details about the Call Me MISTER program, contact Dr. Sandra McLendon, acting dean of Southern Wesleyan's School of Education, at (864) 644-5354, email or visit swu.edu.
Southern Wesleyan University is a Christ-centered, student-focused learning community devoted to transforming lives by challenging students to be dedicated scholars and servant-leaders who impact the world for Christ. For details about degree programs, go online to swu.edu.