Casey receives Mitchell Award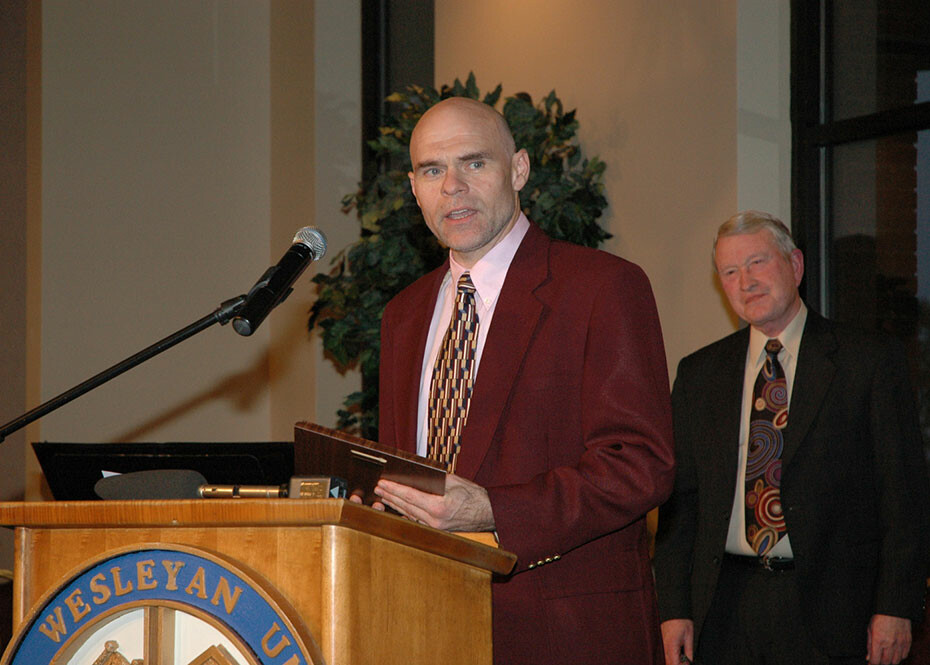 Rev. Tony Casey, pastor of Golden Grove Wesleyan Church in Liberty, was named the 2007 recipient of the Virgil A. Mitchell Excellence in Pastoral Ministry Award.
The presentation was made at a ceremony at Southern Wesleyan University's campus in Central. Dr. James Bross, interim chair of the university's Religion Division, recounted Casey's accomplishments.

"In his pulpit ministry, he is known for his teaching skills and his diligence in preparation and application of scripture to life. His messages connect with his people and has led them to a deeper understanding of the word in their lives," Bross said. "He has been a leader to other pastors and has served as an encouragement to many through his ability to relate to people of all ages. He is gifted intellectually and utilizes his gifts and graces to enhance his ministry."

Casey is the thirteenth recipient of the award, which salutes pastors who have made a significant impact in the development of their churches and communities. Mitchell was an alumnus of Southern Wesleyan University, a longtime supporter of the institution and was named as the university's alumnus of the century. Mary Mitchell, wife of the late Virgil Mitchell, presented the award to Casey.

The purpose of the Virgil A. Mitchell Excellence in Pastoral Ministry Award is to encourage excellence in ministry, enhance the importance of pastoral ministry, to recognize service to the church and support of Southern Wesleyan University, to emphasize the value of ministerial training offered at Southern Wesleyan University and most of all to exalt the greatest preacher of them all -- the Lord Jesus Christ.

The award includes a presentation plaque presented by Mary Mitchell, a monetary gift and first consideration for eligibility for the Virgil and Mary Mitchell Scholarship to a ministerial student attending Southern Wesleyan and attending the recipient's church.

Casey is a 1989 graduate of Southern Wesleyan University. He also earned a master of divinity degree from Asbury Seminary in 1993 and was ordained to the ministry in The Wesleyan Church in 1994. He has served his present congregation since 1993.

"Our award winner will soon begin another chapter in his life as he will be leaving his church assignment to pursue a PhD. at Trinity Evangelical Divinity School, which will prepare him to achieve his dream of serving as a teacher of pastors," Bross said.

Casey and his wife, Sherri, have three children: Dana, Steven and Nicole.