Coast Guard Band a dream come true for SWU graduate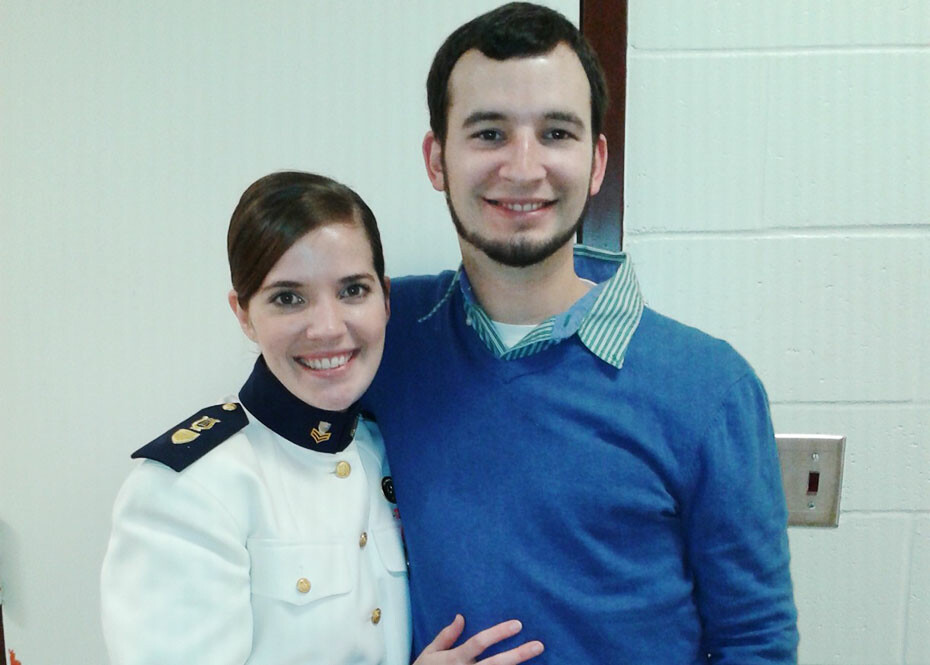 She grew up in Westminster, S.C., as part of a musical family where parents, grandparents and siblings were all devoted musicians. Her twin sister Nikki would frequently accompany her on her clarinet – something both would continue to do together as Southern Wesleyan University music majors.
Baynard describes her father as an "insanely talented" guitarist and musician and recalls how, as a little girl, she would listen as her mother played "Whistle While You Work" on the flute she played in school.
"By the time I reached my junior year of high school, I knew that I wanted to play my flute as a career. At that time, I didn't even know if such a career existed; but it became my mission," she said.
While she was studying for her doctorate in flute performance at the University of Georgia, Baynard learned about auditions for the band. After she sent in her résumé, she was given a spot in an audition that proved to be as rigorous as that of any major orchestra. She learned that she was one of 50 flutists from across the country auditioning for a single spot.
"I approached this audition with lots of practice and prayer, especially knowing that most of my competitors were coming from the top conservatories in the nation. I had no idea how my training from SWU and UGA would compare – it was all in God's hands," Baynard said.
Winning the audition after two days of rounds and multiple eliminations was one of Baynard's most humbling moments.
As the principal flutist for the United States Coast Guard Band, Baynard has played at high-profile events across the nation. Her biggest honor was to perform in the parade at the second inauguration of President Barack Obama this past January. One of Baynard's most memorable highlights came as she marched past the reviewing stand.
"It was at that moment that every single band member started standing a little taller," she said. "I looked out of the left corner of my eye and saw the Commandant of the Coast Guard, Admiral Robert Papp, saluting alongside President Obama as we marched by. I was one of the lucky few who got to be a part of that event, and I am forever grateful for the experience."
As part of the Coast Guard Band, Baynard has performed across the nation at venues that include Avery Fisher Hall in New York and the U.S. Capitol Building.
"It is like a dream every time I go into work. God has blessed my musical career immensely," Baynard said. "I spend my days performing with 55 of the most phenomenal musicians I have ever encountered."
Baynard is grateful for how Southern Wesleyan prepared her professionally and spiritually. She recalls preparing for a musical comprehensive exam in which students must list every piece of music they learned. During the exam, a professor would call out the name of a musical piece, which the student had to perform in their presence. Baynard thought it would be impressive to make a large list and include all selections she had played.
"That day, I confidently stepped out on stage to perform my jury selections, only to hear Prof. Greg Day call out, 'Let's hear Etude No. 25.' At that moment, every ounce of color fell from my face and I started to feel my knees shake," Baynard said. Following an unsuccessful performance, Day told Baynard she would have not been hired if this were the audition for an actual job.
"I learned a hard lesson that day, but it shaped my professional development and preparation more than I can even imagine," Baynard said.
She and her husband, Tim Baynard, also a Southern Wesleyan graduate and also an accomplished musician, live in Uncasville, Ct., close to New London, where the band is based. Tim's résumé includes conducting Clemson University's drumline and he is currently full-time drumline instructor for Central Connecticut State University, the Coast Guard Academy and Montville High School.
"I admire him so much with everything he has going on, yet he still finds a ton of time to be an amazing husband, and certainly stands proud as my number one fan," Baynard said.
Find out more about music majors here.