Connecting community with coffee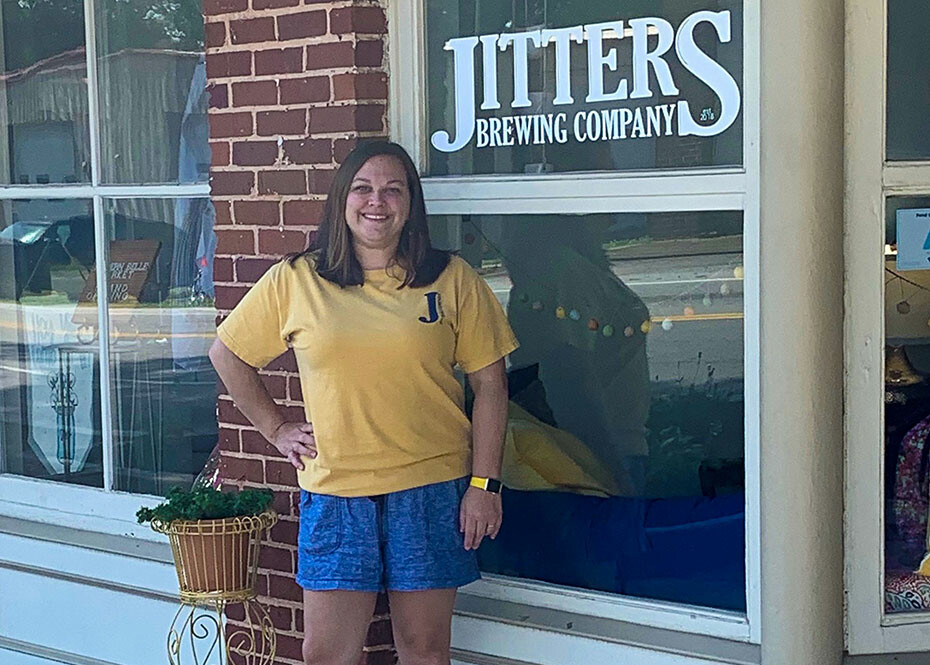 There's a new place in the heart of Central that beckons coffee lovers – a relaxing spot to enjoy conversation with friends or to simply "drink in" the small town ambience of the historic Upstate railroad town while enjoying a freshly-brewed cup of coffee and a delicious snack.
Sarah Hayes, a Southern Wesleyan University Psychology graduate, recently opened Jitters Brewing Company along Madden Bridge Road.
After several years as a stay-at-home mom, Hayes was ready to explore something new. Her options were to go back to school or go back to work. As she considered her future, she was drawn to running a shop of her own, but what kind of shop?
Hayes and her friend Tori Bell would often visit coffee shops as they visited other towns to go to concerts and festivals.
"Our custom was to get a coffee and sit for an hour or so. We would look for three things we would like to emulate and three things we wanted to avoid," Hayes said. "So we did that for about a year, trying to really nail down what our environment, our culture and what our menu would be like. We would get a feel for each place and figure out what the clientele was, what the community was like, the mood – that sort of thing."
"The Lord gave me the vision to open a coffee shop in Central," said Hayes, noting that a similar type of business along nearby Main Street had been closed for several years.
Finding a building available for rent in Central, Hayes developed a business plan, worked on a brand identity and signed a lease. Jitters Brewing Company opened in May at 104 Madden Bridge Road, just steps from Main Street and close the Central Roller Mill, a community landmark.
Hayes' husband, L.C. Hayes Jr., also a Southern Wesleyan graduate and a senior reactor operator for Duke Energy, provided financial backing and assisted with the buildout, and Bell came in as business partner, sharing in the shop's day-to-day management.
Hayes says her husband has been a huge supporter.
"He's always encouraged my vision for our family and has let me take the lead in vision casting for our home, for our family, raising the children and especially my career," Hayes said. He takes on the sole financial responsibility for our home and he takes on additional responsibilities of me needing a break from that."
In addition to hot and cold coffee beverages, Jitters Brewing Company offers pastries. As time goes by, Hayes plans to expand the menu to include "light deli" items, such as appetizers and sandwiches.
"We're going to try to do fresh food too. People don't want prepackaged microwaved stuff. They want healthier and fresher ingredients," Hayes said.
Coming to SWU
Growing up in Michigan, Hayes recalled a spiritual emphasis weekend at Croswell Wesleyan Church where somebody from Southern Wesleyan's staff was invited as a speaker.
"I was in a year off between high school and college and was babysitting for Pastor Dave Dyer. I ran into Tom Kinnan several times in that weekend and he would continually say 'think Southern.' He would then ask me what I was looking for in a college and I would tell him, then he would say 'that's Southern Wesleyan.' He would work to convince me, and by the end of the weekend he would offer to get me a plane ticket, stay in the dorm room with his daughter, it was a freshman visitation weekend, and I came to visit and fell in love – everything about the campus, everything about the opportunities. I really needed a place to develop leadership skills and the opportunity for leadership was great at SWU at the time," Hayes said.
At Southern Wesleyan, Hayes learned from inspiring professors like Sally Wood (now retired) and was given opportunities to develop leadership skills. She became involved in student government, residence life and also traveled with a summer ministry team. She also met L.C.­ and got to know him in numerous classes they attended together. She quips, "In a sense, English class brought us together."
Hayes and her husband have three children, age 15, 11 and 10.
Southern Wesleyan University is a Christ-centered, student-focused learning community devoted to transforming lives by challenging students to be dedicated scholars and servant-leaders who impact the world for Christ. For details about degree programs, go online to swu.edu.
Follow SWU:
https://www.facebook.com/southernwesleyan/
http://www.twitter.com/SWU_edu
http://pinterest.com/swuedu/
http://instagram.com/swu_edu