Counseling Room named for Andrews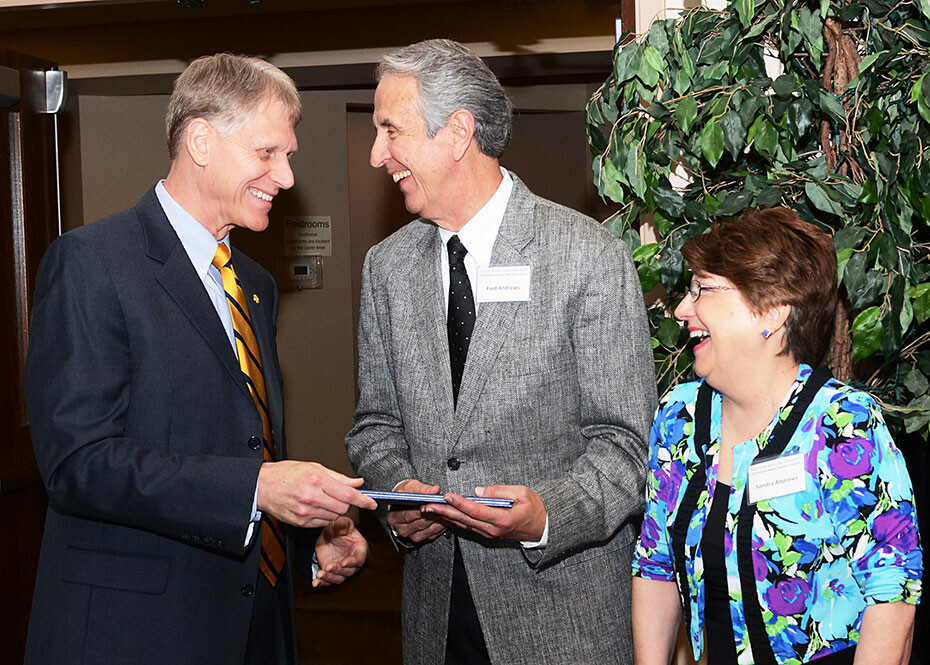 Fred Andrews was honored April 12 at Southern Wesleyan University in Central by the naming of the Pastor Fred Andrews Counseling Room of the Nicholson-Mitchell Christian Ministry Center, thanks to donations from his family, friends and members of ALIVE Wesleyan Church's congregation.
Southern Wesleyan University President Todd Voss presented a certificate to Andrews and his wife Sonnie, which proclaimed the naming and expressed in writing how the room represents a legacy built on the Andrews' years of service to their congregation at ALIVE and the Wesleyan denomination.
"Fred Andrews served this congregation longer than any pastor in its history," said Bob Black, professor of Religion at Southern Wesleyan University. "For more than three decades, he provided exemplary spiritual leadership, and then he closed his fulltime ministry by bringing the current pastor, Tom Harding, on board and helping to engineer the amazing transition to ALIVE Wesleyan, which is now one of the largest churches in the denomination. His legacy is there for all to see."
According to Pam Schmutz of the committee organizing the fund-raiser, the $10,000 goal was surpassed within a month of the start of fund-raising in February.
"It seemed like a natural fit to honor Pastor Fred in this way," Schmutz said. "He's well loved and respected. Just to be able to help SWU raise money and at same time honor someone special to us seemed like a perfect idea."
Schmutz added funds raised beyond the $10,000 goal will be used in additional ways to honor Fred and Sonnie Andrews for their years of ministry. Committee members include Schmutz, along with Sue Rickman, Marty Grimes, Linda Baker, Charles Tegen, Craig Hiteshew, Pam Fipps and Jackie Bryant.
For details about supporting the Nicholson-Mitchell Christian Ministry Center Campaign, contact Lisa McWherter, vice president for advancement, at or call (864) 644-5013. Detailed information is online at swu.edu/nmcenter.
Southern Wesleyan University is a Christ-centered, student-focused learning community devoted to transforming lives by challenging students to be dedicated scholars and servant-leaders who impact the world for Christ. For details about degree programs, go online to swu.edu.