Creative Evangelism Summit at SWU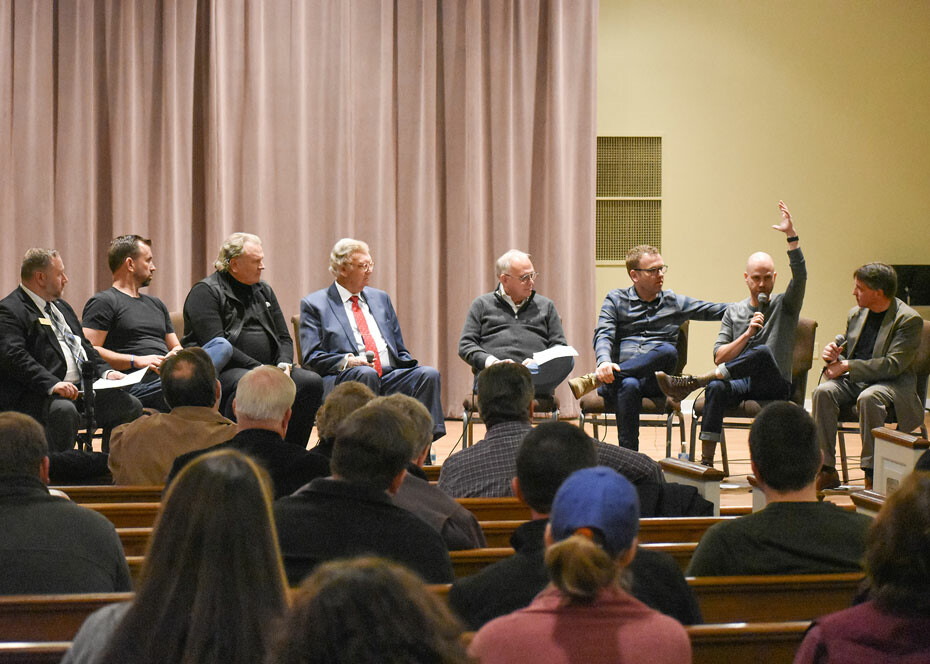 During the Creative Evangelism Summit held Jan. 31 at Southern Wesleyan University, three generations of a family engaged in evangelistic ministry discussed how they effectively share their faith in an ever changing culture.
Dr. Clyde Dupin, an international evangelist, was joined by his sons Wes Dupin, founder and lead pastor of Daybreak Church in Hudsonville, Mich., and Ken Dupin, who has served Salem Wesleyan Church in Salem, Va., and several other congregations; grandson John Dupin, lead pastor of Waymaker Church in Lynchburg, Va., Chad Dupin, vice president of Marketing for ITS in Ada, Mich., also involved in leadership roles for Spring Hill Camps, Never the Same (NTS) Camp, World Hope International and other nonprofit faith-based ventures; and Clint Dupin, planting pastor of Eastown Church in San Ramon, Calif.
Moderators for the event were Rev. Heath Mullikin, SWU director of alumni relations, and Rev. Mark Wilson, assistant professor for discipleship, multiplication and renewal. Opening the summit with a word of prayer was Rev. Andrea Kind Summers of the Southern Wesleyan Division of Religion.
Wilson was enthusiastic about the summit, saying, "One family, three generations of effective ministers in six very different contexts with one mission: reaching lost souls for Christ. What an inspiring legacy!"
The Creative Evangelism Summit was organized jointly by Southern Wesleyan's Division of Religion and Office of Advancement.
Southern Wesleyan University is a Christ-centered, student-focused learning community devoted to transforming lives by challenging students to be dedicated scholars and servant-leaders who impact the world for Christ. For details about degree programs, go online to swu.edu.
Follow SWU:
https://www.facebook.com/southernwesleyan/
http://www.twitter.com/SWU_edu
http://pinterest.com/swuedu/
http://instagram.com/swu_edu