District names top teacher, support employee, volunteer of year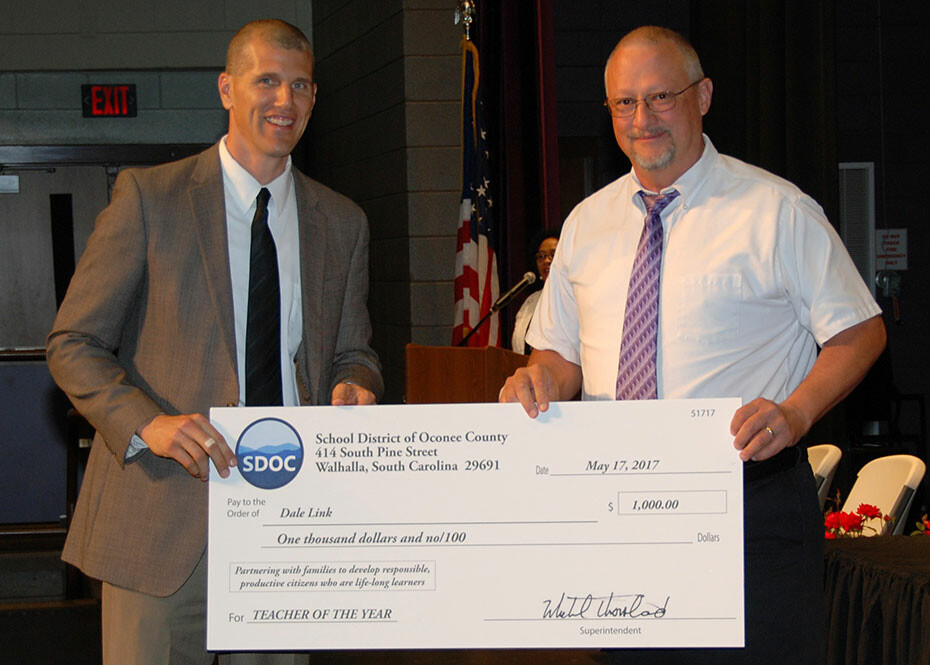 Courtesy of the Seneca Journal -- Author Greg Oliver is a 1984 SWU alumnus
WALHALLA, S.C. – Dale Link had spent a quarter of a century teaching high school Spanish when his career was jolted a year ago by the closing of Tamassee-Salem Middle and High School.
Link, who transferred to Tamassee-Salem in 2007 after spending his first 16 years in the classroom at Seneca High School, ended the last school year not knowing where he would be teaching this year. In fact, he wasn't even sure he would be teaching in 2016-17, as there didn't appear to be any jobs available for his subject area.
That's when James M. Brown Elementary School principal Ashley Robertson entered the picture.
"Ashley went and said 'We want him at James M. Brown,'" Link said. "Ashley has been very, very good to work with."
Link made a big enough impression his first year at the school to be nominated as its teacher of the year. Last week, he did one better by being named the School District of Oconee County's teacher of the year.
Link joined Blue Ridge Elementary School's Olivia Timms, the district's support employee of the year, and Walhalla Middle and Walhalla High volunteer Julie-Ann Shannon, the district's volunteer of the year, in receiving the district's top three honors during a ceremony May 17 at Walhalla High School.
Upon joining James M. Brown, Link was tasked with piloting a program that incorporated a certified language teacher into an elementary school that serves a large Hispanic population. Last June, Link met with Robertson and discussed what her administrative team planned for a schedule, with curriculum and methods being Link's responsibility.
Spanish classes conducted by Link, who holds bachelor's degrees from Southern Wesleyan University and Clemson University and a master's from Furman University, would be a part of student enrichment time. That time involved meeting with all grade groups, pre-K through fifth-grades, on a weekly basis.
Link admits he wouldn't have made it through the transition from high school to elementary school without his wife, Sheryl, a retired elementary school teacher herself.
"The hardest part was getting used to what works in elementary school, because it is different," said Link, who also credited Janet Figueroa as instrumental in the process. "As far as the classroom is concerned, I felt I did that pretty easily, but experiences, standard operating procedures are different."
Born and raised in Guatemala, Link, whose parents were missionaries, spent 13 years in the Central American country, as well as two years in Medellin, Colombia. Link said he knew he was heading toward some type of ministry/education but unsure exactly where that would lead.
"The more I got into the education part of it, the more I realized I had a gift I could share," Link said. "That's what I've been telling students this year – to use the gift you have to serve, to help."
Robertson said in her nomination letter that Link knows how to get students excited about Spanish.
"Imagine students with smiles, students begging to go to class and complete student engagement – that is exactly what you will see each and every day with Mr. Dale Link as he teaches Spanish to all students at James M. Brown Elementary School," Robertson said in her nomination letter. "He completely embodies the characteristics of a highly effective teacher in the areas of student development, instruction and parent communication."
"Walking into his classroom is like walking into an instructional wonderland. The students may be working on an integrated unit, singing songs, reading a book in Spanish or writing a letter to a friend in Spanish, and his projects and environment burst with creativity and thought."
When asked what he enjoys most about a profession teachers often equate to "a calling," Link replied, "A student's response to what I share with them."
"They embrace it and use it and show a sense of appreciation," he said. "It's satisfying."
At the end of his 26th year as a teacher, Link is especially proud that his daughters, Amanda Harris and Andrea Battles, follow in their parents' footsteps.
Harris is a teacher at Walhalla High School, while Battles teaches at Emerald High School in Greenwood. The Links also have three grandchildren.
District superintendent Michael Thorsland said he admires how Link responded to the adversity of seeing his school close a year ago to become teacher of the year in his first year at a new school.
"It says a lot about him in that he goes from a career teaching high school, his high school closes and he doesn't know where he's going, to then take this opportunity and run with it at James M. Brown," Thorsland said. "I had the privilege of going into one of his classes this year and the kids were so excited and engaged in the lesson. He does a great job."