Education graduate honored by Ga. TV station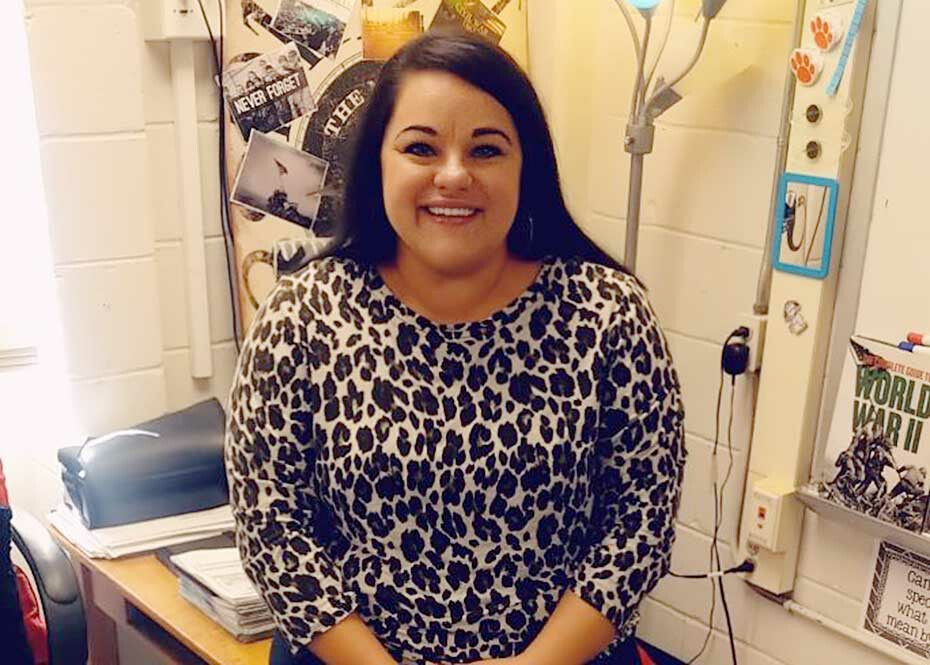 Jamie Spanner sees each day as an opportunity to make an impact.
Her passion for teaching earned her the Kinetic Credit Union Golden Apple Award, presented by WRBL-TV in Columbus, Ga.
"I was so flattered and so grateful to win this award," said Spanner. "It felt amazing to be recognized for a job well done, and honestly it gave me a real boost to want to keep pushing through those hard days."
Spanner, who teaches fifth grade math, science and social studies at Key Elementary School, says that she has always loved school and learning. One of her biggest influences was her grandfather, who was an education professor at Southern Illinois University.
"I can recall many times as a child while visiting over the summer, I'd sit in on some of his seminar classes at the University. He instilled in me the feeling of joy for learning new things and finding the excitement of getting lost in a good book. He sparked my curiosity, and always nurtured my endless need to know 'why,'" said Spanner, who also has happy memories of her fifth grade teacher at Belle Hall Elementary School in Mount Pleasant, recalling, "I can remember just loving the woman she was and wanting to be just like her – even down to the way she held her pen when she wrote on the overhead projector!"
Spanner enrolled in Southern Wesleyan's M.Ed. program, graduating in 2010. Looking back on her program, she feels she gained valuable knowledge that was key to becoming a successful teacher.
"Through my courses at SWU, I learned a lot of techniques to engage students with problem solving techniques, how to effectively analyze data, and how to differentiate instruction for each student. What is amazing to me now is that I realize SWU was very forward in its thinking in terms of the future of the educational practices and pedagogy. She experienced the School of Education's "Christian Ethic of Care" and how faculty and staff valued her as a person and made themselves available whenever needed.
"They are known for being a faith-filled learning community, and you could simply feel that they cared about your well-being," Spanner said.
For details about Education degrees, contact Southern Wesleyan University at 877-644-5556 or visit www.swu.edu.
Southern Wesleyan University is a Christ-centered, student-focused learning community devoted to transforming lives by challenging students to be dedicated scholars and servant-leaders who impact the world for Christ. For details about degree programs, go online to swu.edu.
Follow SWU:
https://www.facebook.com/southernwesleyan/
http://www.twitter.com/SWU_edu
http://pinterest.com/swuedu/
http://instagram.com/swu_edu