Exploring sung theology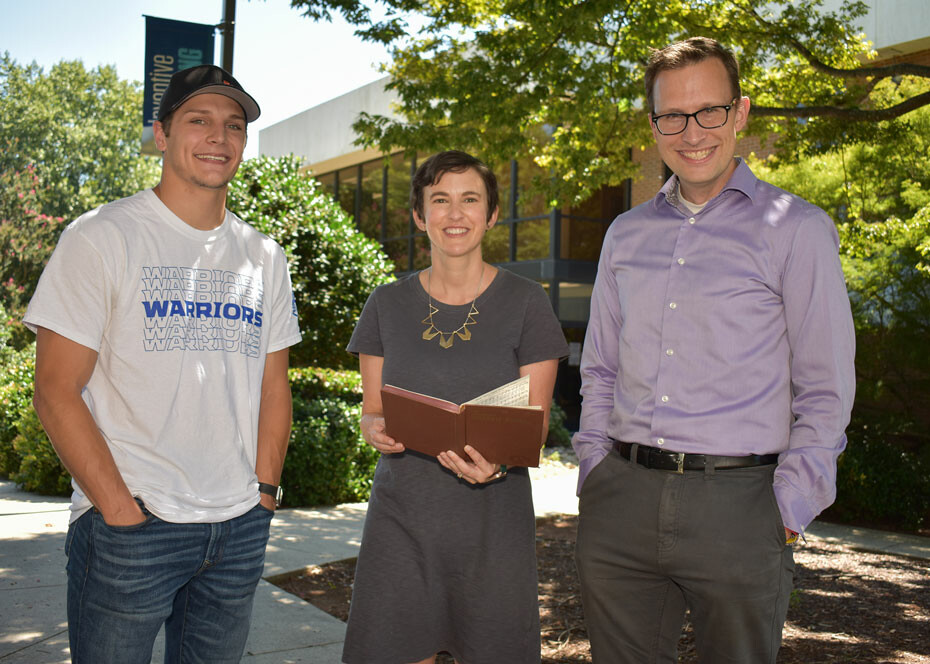 Every Sunday, Christians gather in churches across America and make a heartfelt connection to God through musical worship. Two Southern Wesleyan University professors and a student released a new study looks at how the songs we sing align with theology in evangelical Christian churches.
Dr. Mike Tapper, chair of Southern Wesleyan's Division of Religion, along with Dr. Britt Terry, associate professor of English and Jacob Clapp, a Religion major, performed a lyrical analysis of the 30 most commonly sung hymns and 30 of the most commonly sung contemporary worship songs over the past five years.
Their findings were published this month in Worship Leader Magazine, The Wesleyan Church website, and more of a brief article was published by Christianity Today magazine in June.
The Worship Leader magazine article concludes by saying "Sung lyrics are one of the primary ways many of us connect to God. For some, this article might raise dismissiveness, anger or defensiveness; for others, it might switch a light on, or be an epiphany."
"This is a project that was birthed about a decade ago. It materialized into a 2015 dissertation and a 2017 academic publication," Tapper said. "Up until these recent articles, the lyrical research wasn't really accessible at the local church level. In this study, we aimed to change this. We committed that, whatever we discovered, we'd do our best to make it available to a more popular audience. I think we accomplished this. The study findings are solid. Prof. Britt and Jacob were amazing colleagues. Christianity Today and Worship Leader Magazine really helped enhance our work, too. This was one of the most fulfilling collaborative projects I've ever participated in as a researcher."
"We narrowed down to these 60 songs by looking at licensing agreements for the contemporary ones and then we looked at how many web searches people had for lyrics of the hymns – that's how we chose the 30 and the 30," Terry said. "That in and of itself is revealing."
For Terry, the biggest surprise was the similarity between the lyrics of the hymns and contemporary worship songs.
"Neither set really amplify or explain or give voice to what a Trinitarian God is like, so that is very surprising to me," said Terry.
"In the music we sing, it seems like we're not as Trinitarian as we think we are," Tapper said. He added that, while sometimes parishioners may have difficulty naming the topic of the last sermon they heard or quoting many Bible verses, they can remember song lyrics.
Clapp, who was a work study student in the Division of Religion, spent many hours in collaboration with Drs. Tapper and Terry gathering and compiling data for the study. Clapp, who is working on his Christian Ministry degree and feels God is leading him into church planting, says that music is a huge part of his life and ministry.
"After my eyes were opened to the fact most people get their theology from song lyrics, this project meant all the more to me," Clapp said.
"If a song puts your heart and mind in a worshipful space, then we really need to think about what that song is saying. It's super foundational," Terry said.
Southern Wesleyan University is a Christ-centered, student-focused learning community devoted to transforming lives by challenging students to be dedicated scholars and servant-leaders who impact the world for Christ. For details about degree programs, go online to swu.edu.
Follow SWU:
https://www.facebook.com/southernwesleyan/
http://www.twitter.com/SWU_edu
http://pinterest.com/swuedu/
http://instagram.com/swu_edu