Fill the Hill! SWU Homecoming 2016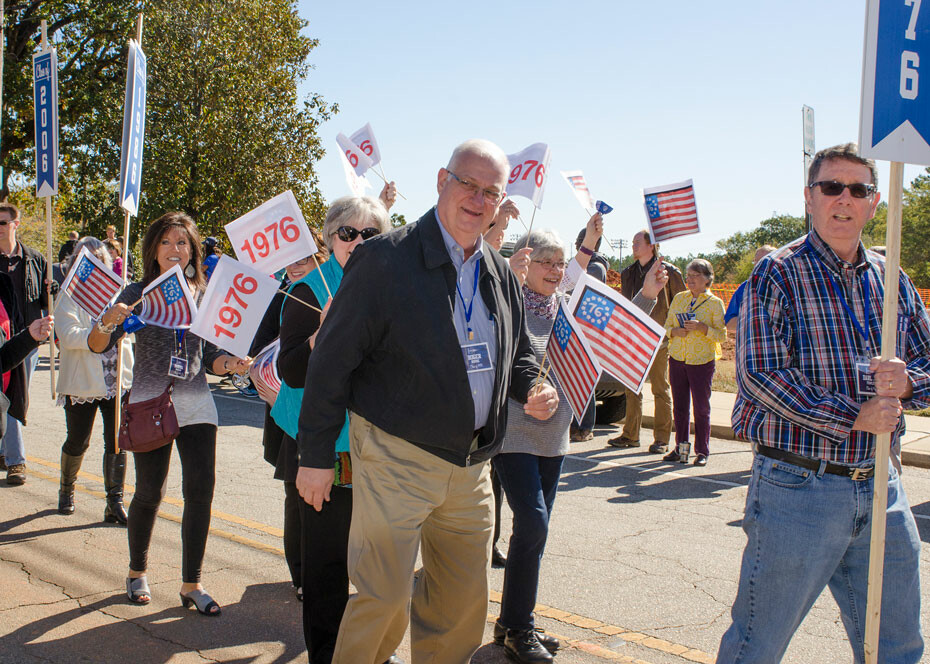 Graduates joined students, faculty and staff for a celebration-filled Homecoming weekend Oct. 21 and 22 at Central.
The Southern Wesleyan University Alumni Association recognized outstanding graduates Friday evening during an awards dinner. Dan Wood, a 1982 graduate and president of the National Christian College Athletic Association (NCCAA) received the 2016 Professional Excellence Award from the School of Education; James Bross Jr., a 1984 graduate and CEO of St. Luke's Hospital, Columbus, N.C., received the 2016 Professional Excellence Award from the School of Business; Dr. Mark Gorveatte, a 1984 graduate and district superintendent for the Indiana Central District of The Wesleyan Church, received the 2016 Professional Excellence Award for the College of Arts and Sciences; Larry McAlpine, a 1965 graduate, was named 2016 Outstanding Alumnus of the Year; and Tina Collins, a 2011 graduate who works for China's growing entertainment industry, was presented with the 2016 Young Leader Award.
Homecoming started with a "Kickoff Concert" featuring the Grammy-nominated Acapella group "Committed" on the stage of Newton Hobson Chapel and Fine Arts Center. During the concert, three University Singers members – Katy Dyches of North Augusta, Caitlin Gardner of Kannapolis, N.C. and Rasheem Simpson of Seneca – shared their vocal talents with the group.
"Run2Fall", the SWU Staff Council's 5k run, shifted to a Friday night "glow run" this year, with Jonathan Ray of Brevard, N.C. taking first place with a time of 19:06. Southern Wesleyan Exercise Science Professor Dr. Patty Hovis finished 10th with a time of 28:17 and Southern Wesleyan Admissions Coordinator Debra Nodine finished 13th with a time of 29:01.
Following coffee and doughnuts with the president and an open house at the Nicholson-Mitchell Christian Ministry Center, SWU 2003 religion graduate Emily Rampey Miller, co-pastor of Greenville Multicultural Church, spoke at Homecoming Chapel. Southern Wesleyan's athletic mascot was introduced as "Ty," a new name selected by alumni, faculty, staff and students.
Following the chapel was a parade up Wesleyan Drive with grand marshalls James "Radio" Kennedy and retired T.L. Hanna coach Harold Jones, who were the inspiration for the 2003 hit movie "Radio." Parade highlights included a processional of classes featuring alumni marking graduation milestones; several floats from student organizations; and the winning float presented by the Pickens County Board of Disabilities and Special Needs.
The celebration then moved to the area around Joe R. Gilbert Track and Soccer Complex and the Sheriff National Guard Memorial Flag Plaza for a picnic lunch with live music from Southern Wesleyan's Jazz Ensemble. Near the track and soccer complex were crafts vendors, as well as refreshments from Southern Wesleyan's Blue Hill Coffee and Tea Co.
In Warrior athletics, the Women's Volleyball Team defeated Emmanuel College 3-0 Friday night, but were defeated by Erskine 3-0 Saturday afternoon. The Men's Soccer Team defeated North Greenville Saturday, with a score of 2-1 while the Women's Soccer Team went into double overtime against North Greenville but were unable to break a 1-1 tie.
Dr. Don Campbell, professor of music, led students in singing the National Anthem before the men's soccer game. At halftime, Sarah Sweatt of Myrtle Beach was crowned as the 2016 Homecoming Queen and Ben Hochhalter of Colorado Springs, Colo., was crowned the 2016 Homecoming King. Also during halftime, Chris Williams, director of athletics, recognized Southern Wesleyan alumni worldwide for their support during the athletic program's transition into NCAA Division 2. Joy Bryant, executive director of alumni and constituent relations, and Ethan Cashwell, coordinator for alumni relations and special events, received commemorative SWU NCAA coins on behalf of the Alumni Association.
Southern Wesleyan University is a Christ-centered, student-focused learning community devoted to transforming lives by challenging students to be dedicated scholars and servant-leaders who impact the world for Christ. For details about degree programs, go online to swu.edu.
Follow SWU:
https://www.facebook.com/southernwesleyan/
http://www.twitter.com/SWU_edu