Fill the Hill! SWU Homecoming 2017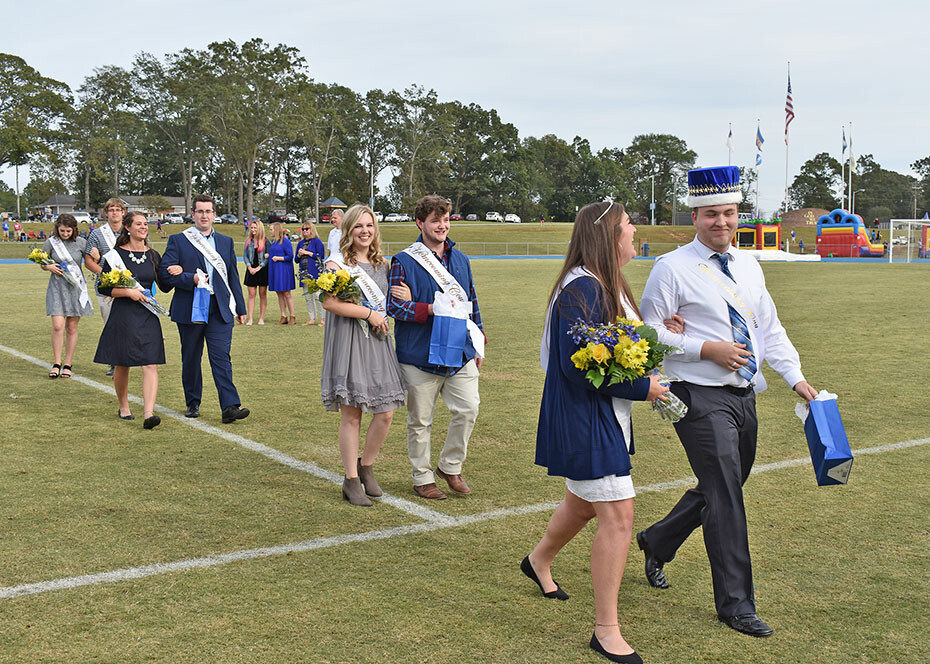 View Homecoming highlights in this slideshow:
Graduates joined students, faculty and staff for a celebration-filled Homecoming weekend Oct. 20 and 21 at Central.
The Southern Wesleyan University Alumni Association recognized outstanding graduates Friday evening: Charles Wimphrie, 2017 Alumnus of the Year; Brittany Buchanan Jolly, 2017 Young Leader Award; Tim Rickman, 2017 Professional Excellence Award for the School of Education; Jeff Whitney, 2017 Professional Excellence Award for the School of Business; and Nathan Bryson, 2017 Professional Excellence Award for the College of Arts and Sciences.
Viral comedy sensation John Crist took to the stage of Newton Hobson Chapel and Fine Arts Center auditorium along with Mike Goodwin, a comedian from Columbia. Crist has videos on YouTube and BuzzFeed viewed by millions; he's also appeared on the Bob and Tom Show and TBN, and has been featured in Relevant Magazine. Goodwin is considered "one of the brightest young minds in comedy," and has appeared with notable comedians such as Dick Gregory and Michael Jr. He's also appeared on BET, the Word Network and TBN. Event sponsor was Nationwide Insurance, along with Southern Wesleyan's Fine Arts Committee.
Saturday's activities began with coffee and doughnuts with President Todd Voss and his wife Julie in the lobby of the new residence hall, along with tours of Stuart-Bennett residence hall, where former residents and interested alumni got a last glimpse of the rooms and facilities before renovation occurs, making room for the School of Business and Division of Social Science.
Homecoming Chapel went outdoors for the first time at the Clyde Dupin Celebration Amphitheater, featuring an inspirational message from Mark Wilson, assistant professor for discipleship, multiplication and renewal at Southern Wesleyan and a renowned speaker and author.
Following the chapel was a parade along Wesleyan Drive. A processional of classes featuring alumni from the late 1960s were joined by floats from student organizations and The Jericho Project, a special needs community that will locate on the Central campus next year. The Central Police Dept. led the processional and Ty the Warrior Mascot rode atop a Central Fire Dept. truck alongside Central Town Administrator Phillip Mishoe at the other end of the route. Southern Wesleyan's Office of Admissions was awarded as the winning parade entry.
The celebration then moved to the university's track and soccer complex area for a picnic lunch with BBQ, potato salad and other picnic favorites. Throughout the afternoon the track area also featured crafts vendors, along with food and refreshments from local vendors.
In Warrior athletics, the Men's Soccer Team was victorious over Chowan University Saturday, with a score of 3-1 while the Women's Soccer Team lost 2-0 to Chowan.
Dr. Don Campbell, professor of music, led the SWU Concert Choir in singing the National Anthem before the men's soccer game. At halftime, Kaitlin Mosley of Central was crowned as the 2017 Homecoming Queen and Noah Cromer of Temperance, Mich., was crowned the 2017 Homecoming King.
Other Homecoming highlights included the dedication of four benches at the Sheriff National Guard Memorial Flag Plaza and a service at Freedom's Hill Church, led by Dr. Bob Black, professor of religion, celebrating graduates reaching the half-century anniversary and remembering those who have passed on.
Southern Wesleyan University is a Christ-centered, student-focused, faith-filled community that offers inventive learning experiences. The university endeavors to prepare its students to be dedicated scholars and servant-leaders who impact the world for Christ. At the same time, it's Southern Wesleyan's desire to practice contagious generosity within the surrounding community. For details about degree programs, go online to swu.edu.
Follow SWU:
https://www.facebook.com/southernwesleyan/
http://www.twitter.com/SWU_edu