For student aspiring to med school, SWU offers 'huge' advantages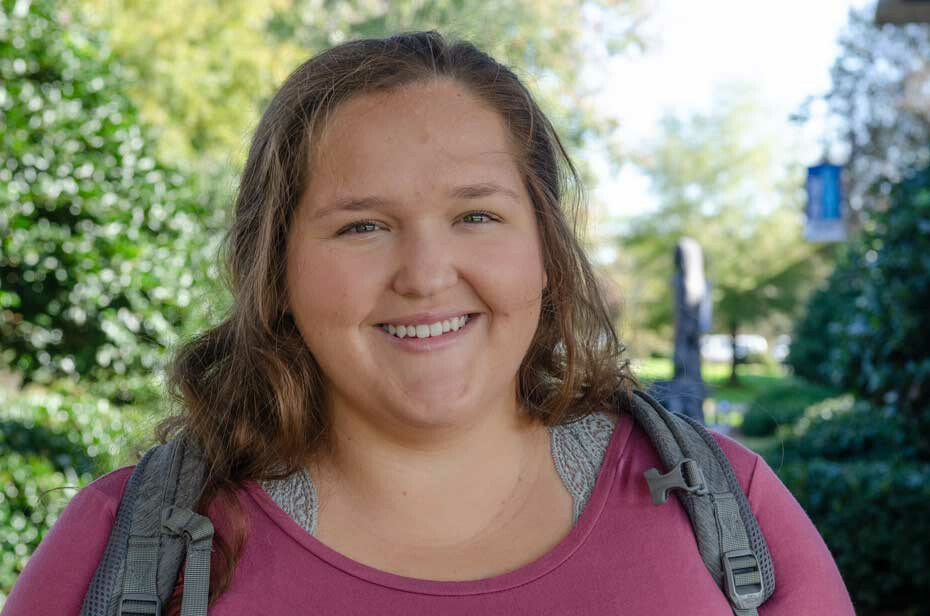 Emily Floyd's interest in medicine grew out of a desire for a challenging, rewarding career, but she also feels it's a calling to help others both physically and spiritually.
Floyd's two aunts, who are also twin sisters, are both doctors and operate a women's center.
"One is a general surgeon and one is an OB-GYN," Floyd said. "They were adopted from South America, so they go down every year and do mission work in South America, but it is medical mission work. They're treating patients and that kind of stuff, so it's more than just spiritual help, they're helping medical too. I would really like to do that."
Floyd, who is from Edmond, Okla., considered several colleges closer to home, but felt God was calling her to Southern Wesleyan.
"There was one school in particular that I really wanted to go to, but God closed that door. Then He opened this one and it was perfect," Floyd said. "I think a lot of people going into medicine think they should go to this big university, but SWU has a big advantage. It's smaller and faith-based – bigger schools take you away from that. I learned that God and science work together – that opened my eyes. I think a huge advantage to going to SWU is getting a faith perspective, but also having faculty who are available and will work with you and pray for you."
Growing up in a golfing family, Floyd was looking into Division II programs where she could play college golf, and Southern Wesleyan was an appealing choice. Being just a few hours' drive from the beach was a plus.
Floyd appreciates the supportiveness of her coaches, who understand the challenges of her studies.
"They know I have labs so many days a week, I have medical school interviews, or I have to go volunteer or shadow. They are really understanding and flexible with me on that," Floyd said. "It's a really big blessing, because I know a lot of coaches wouldn't be like that."
Floyd has also gotten involved in leadership opportunities at Southern Wesleyan, becoming the first president of Southern Wesleyan's Beta Beta Beta chapter, which was formed earlier this year. Beta Beta Beta, a biology honor society, offers valuable opportunities to meet medical school students and expand knowledge of biology as an academic discipline. She is also active in the Science Club, whose activities include running breakout sessions during the South Carolina Region 1 Science Fair, held every March at Southern Wesleyan.
"I really feel like God wanted me here. It was really like a heart thing. There are a lot of places back home. There was one school in particular that I really wanted to go to, but God closed that door. Then He opened this one and it was perfect," Floyd said.
Southern Wesleyan University is a Christ-centered, student-focused learning community devoted to transforming lives by challenging students to be dedicated scholars and servant-leaders who impact the world for Christ. For details about degree programs, go online to swu.edu.
Follow SWU:
https://www.facebook.com/southernwesleyan/
http://www.twitter.com/SWU_edu
http://pinterest.com/swuedu/
http://instagram.com/swu_edu