For SWU graduate, hotel management is about people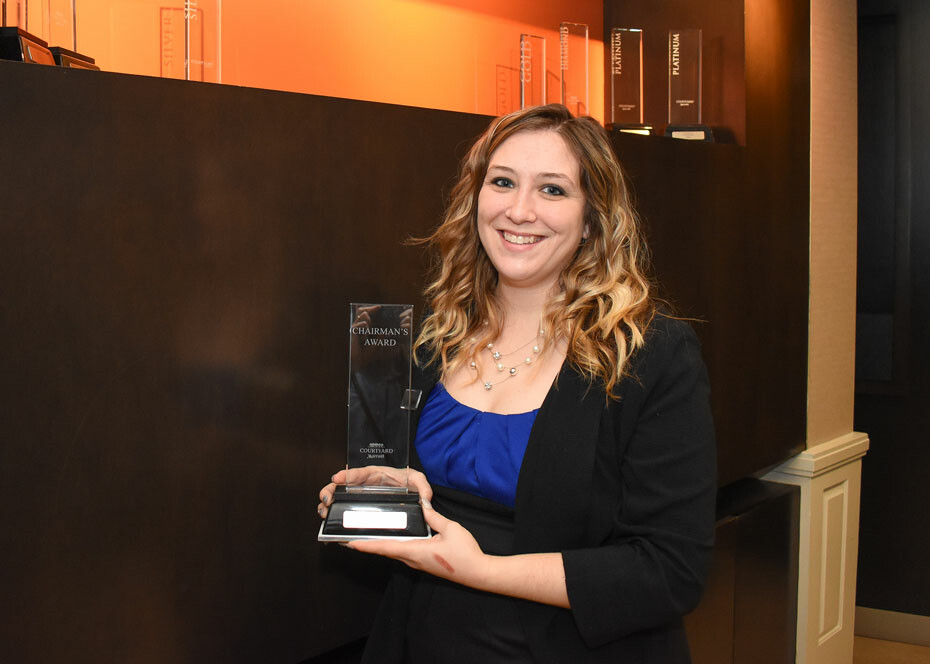 It wasn't originally on Mary Logsdon's radar to one day manage a large hotel in a college town, but everything came together and a collection of awards testifies it was a good choice.
As a high school senior in Pennsylvania, Logsdon chose to major in exercise science as well as biology and came south to enroll at Southern Wesleyan University.
"I chose a major that would kind of challenge me, hence the biology, so I went to school and had Drs. (Susan) Rouse, (Rocky) Nation and (Walt) Sinnamon. They were a fantastic base for me to learn and grow. They were all really encouraging," Logsdon said.
But when Logsdon graduated from Southern Wesleyan in 2012, she wasn't sure what she wanted to do. She considered graduate work but undecided about which degree program to pursue, so her professors encouraged her to take time out to figure out a career direction.
At that time, she sought a job at Courtyard by Marriott, which had built a new hotel in nearby Clemson just a couple of years before, and was hired to work the front desk. A year and a half later, she was promoted to assistant manager.
"I fell in love with the kind of chaos that is hospitality – it's always changing and it's always different. I enjoy getting to take care of people rather than treating them like a transaction," Logsdon said. "It makes for life to be enjoyable to kind of make their day and those 'wow' factors."
Then in May 2017 Logsdon got an opportunity to work as a task force general manager at one of Courtyard by Marriott's Kentucky hotels. The role of a task force general manager is usually to step into a hotel where a manager has moved on for any reason – retirement, transfer, or even termination.
In late 2018, she returned to Clemson to manage the hotel where her hospitality career began, heading up a team of 33 employees while being responsible for 110 guest rooms, hotel food service, meeting facilities and other amenities.
"In hospitality, five years in a position is a long time. There are some who do it, but what happens in our industry is you become kind of complacent when you're in one place, so movement in our industry is very common," she said.
Logsdon feels that her years at Southern Wesleyan University helped her gain confidence and form lasting relationships that endure several years after graduation. In addition to her professors, she credits her involvement in athletics and working at SWU Conference Services as well as the university's dining services for being instrumental to her success.
Courtyard by Marriott in Clemson recently received Marriott's Chairman's Award, a top award given to one hotel per brand annually – meaning the location she managed was the only Courtyard by Marriott selected for that honor during the year. The Clemson location has won several additional awards for its outstanding service to the thousands of customers who have stayed there.
Finding ways to make her guests feel valued as people motivates Logsdon every day.
"Each opportunity is an opportunity to touch somebody's life," she said. "I have no idea what the person on the other end of the phone is going through. What I like to tell my staff is that maybe they were late for a meeting and lost their baggage. What opportunity do you have to turn their day around and make them feel loved and make them feel like they had a good experience?"
Logsdon points out that the experience of managing a hotel in a college town is unique from that of hotels in other settings.
"The great thing about our hotel, being close to Southern Wesleyan University and Clemson University, is we actually get to see a lot of families," Logsdon said. "It's a lot of fun because you get to see the start of their journey. The parents will stay with us over the next four years, so you get to know them. You get to feel that joy and that energy that comes with being successful in college then graduating. Parents love to come in and brag at graduation time about job offers their students have had and we get to share in that."
Southern Wesleyan University is a Christ-centered, student-focused learning community devoted to transforming lives by challenging students to be dedicated scholars and servant-leaders who impact the world for Christ. For details about degree programs, go online to swu.edu.
Follow SWU:
https://www.facebook.com/southernwesleyan/
http://www.twitter.com/SWU_edu
http://pinterest.com/swuedu/
http://instagram.com/swu_edu