Four-year degrees coming to Easley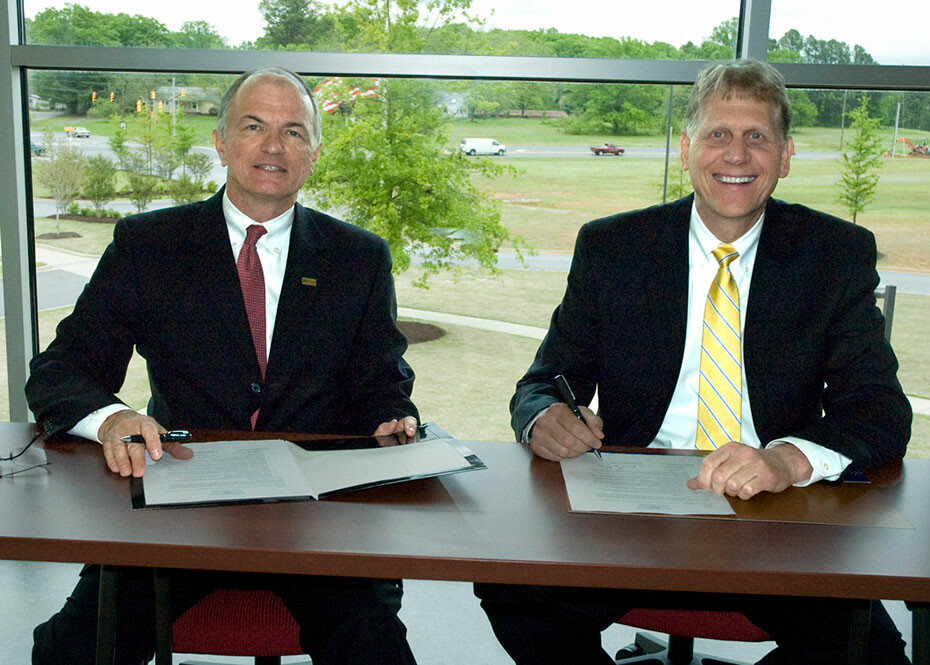 Easley area residents seeking a four-year degree now have choices closer to home, thanks to an agreement between Southern Wesleyan University and Tri-County Technical College.
Southern Wesleyan University President Todd Voss and Tri-County Technical College President Ronnie Booth signed an agreement May 1 that will bring bachelor's degrees in Business Administration and Human Services to Tri-County's Easley Campus, located on Powdersville Road. The bachelor of science in Human Services program is projected to start this September, followed by the bachelor of science in Business Administration program in January 2014.
"The whole point of putting these campuses out in our communities is to take the college to where the people are," said Brian Swords, director of Tri-County's Easley campus. "Now we're bringing a four-year presence to the community."
The future of higher education, according to Voss, involves "rich, student-focused collaborations."
"Both institutions' goals align wonderfully to support students in their quest for accessible high quality education, and it is our hope that this will begin a journey of even more creative partnerships for students in the coming years," Voss said.
"Anything we can do to smoothen that transition and make it easier for students – that's something good for the student," said Booth, adding he is pleased that students will now be introduced to a "high quality baccalaureate degree" and be able to stay in Easley throughout the program.
"A lot of students want to stay close to home and that's why they came to us," Booth said.
Being able to complete a four-year degree at one place has its advantages, according to Jim Shelton, regional director for Southern Wesleyan's Adult and Graduate Studies program in Central.
"By having the opportunity to complete a four year degree on Tri-County's Easley campus, students can avoid long drives and other costs associated with college expenses," Shelton said. The degree programs are designed to be completed in two-and-a-half years, according to Shelton.
For details about degree programs in Business and Human Services being offered in Easley, contact Shelton at (864) 644-5334 or email .
Southern Wesleyan University is a Christ-centered, student-focused learning community devoted to transforming lives by challenging students to be dedicated scholars and servant-leaders who impact the world for Christ.